As awareness surrounding the threat of climate change and the depletion of resources has grown, we have become increasingly mindful of the need to factor environmental sustainability issues into our choices.
As a global project delivery firm with operations and projects being executed around the world, SSOE's sphere of influence is vast. We take this privilege and responsibility very seriously.
Nowhere do we take our global responsibility more seriously than in the realm of environmental sustainability.
Globally, more than 1 billion people struggle with hunger each day and are food insecure. Approximately 780 million people lack access to clean water. More than 3.4 million people die annually from water-related disease and sanitation and hygiene-related causes.
While sobering, these statistics are galvanizing positive change worldwide and are creating innovative, committed stewards of environmental sustainability within our organization.
Through creative use of our resources and careful consideration of the economic, environmental and social impacts of our day-to-day activities, SSOE is amassing a growing portfolio of global environmental sustainable achievements:
In 2016, SSOE performed 122 environmental sustainable projects in 4 countries and 18 states across the U.S.
Led by our in-house LEED® accredited professionals, our LEED projects have grown to represent a value of more than $2 billion.
Through infrastructure modifications and operational efficiencies, our World Headquarters in Toledo, Ohio, became an ENERGY STAR® certified building in 2014.
Engineering News-Record (ENR) has ranked SSOE a Top 100 Green Design Firm for the past 8 years.
SSOE has completed 30 LEED certified projects, including 2 Platinum, 10 Gold, and 12 Silver.
More than 50 LEED accredited professionals are on staff worldwide.
SSOE designed the Volkswagen Assembly Plant in Chattanooga, Tennessee, the first and only LEED Platinum certified automobile assembly plant in the world.
Despite these significant accomplishments, it is not in our nature to simply be satisfied with our progress. When it comes to environmental sustainability, our vision is to be a company others aspire to imitate.
Whether we are reducing energy consumed during idle time at an automotive assembly line in Tennessee (U.S.), collecting rainfall to meet water demand at a bottling manufacturing facility in Malaysia, or rewarding SSOE employees who bike, carpool, or bus to work in Oregon (U.S.), SSOE strives to sow sustainability where we're planted…one project at a time.
SSOE is committed to documenting savings in four main areas (waste, water, energy, and carbon emissions) to stay true to our Sustainability Statement. In addition, we strive for transparency in reporting our own annual energy consumption (measured in kilowatt hours) across SSOE offices.
Click the icon below to view yearly tracking information.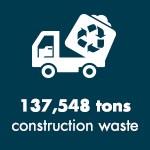 Our Sustainability Vision
SSOE is the global project delivery company that leaves green footprints around the world. We champion worldwide health and safety, nurture sustainable innovations, thoughtfully endow projects with green materials and methods where feasible, and inspire others to think sustainably.
In Malaysia, SSOE helped achieve 46% savings in total non-product water demand at a bottling plant, the equivalent of providing water for 2,668 people every year.
For a Greenfield manufacturing plant, SSOE designed an abatement system that is anticipated to provide $3.7 million in recurring natural gas savings annually.
For an automotive plant in Tennessee, SSOE developed a strategy that resulted in 78% (4,602 tons) of construction and demolition waste being recycled or salvaged. SSOE's design for the same plant resulted in a 58% (3 million gallons) reduction in potable water usage.