78th Annual Conference on Glass Problems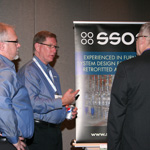 Monday, November 6 – Thursday, November 9, 2017
Greater Columbus Convention Center
400 N. High Street
Columbus, OH
Our glass experts will once again be hosting a hospitality suite at the Conference on Glass Problems in Columbus. This year, SSOE will be located in Hospitality Suite – Bellows E. This event is co-organized by the Glass Manufacturing Industry Council (GMIC) and Alfred University, the leading American glass teaching and research institution. The annual conference is the largest glass manufacturing conference in North America and provides 35 hours of technical education through expert lectures, panel discussions, and focused courses on topics, including glass melting, refractories, process control, emissions, and raw materials, while also providing significant networking opportunities. As a leader in the glass and manufacturing industry, SSOE's experience spans more than 50 years and 12 countries—providing design and engineering services to nearly every major glass manufacturer.
For more information on this event, click here.
You can follow any responses to this entry through the RSS feed. Both comments and pings are currently closed.