"Great Workplace" Corporate-wide Lunch Celebration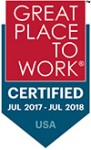 Wednesday, November 8, 2017
SSOE Group
In honor of our recent achievement of being certified as a Great Place to Work® "Great Workplace" for the second consecutive year, SSOE will be providing employees at all of our locations with a celebratory lunch.
Much to celebrate: in the past year alone, SSOE has grown significantly and expanded its staff by more than 10%. Furthermore, SSOE experienced its highest revenue in the company's 69-year history. Click here to learn more about our "Great Workplace" certification.
You can follow any responses to this entry through the RSS feed. Both comments and pings are currently closed.
Tagged LCI, lean-construction, VDC, virtual-design-and-construction