HandleBar Toledo Architecture Tour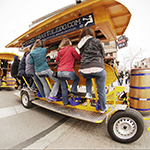 Thursday, August 17, 2017
4 N. St. Clair Street
Toledo, Ohio
5:30 PM – 8:30 PM (EST)
Join ENGAGE Studio / AIA Toledo for an evening of architecture, art, and socializing as you pedal around Downtown Toledo on The HandleBar, Toledo's first and only 16-passenger bike*, and explore the area's unique architectural gems on this guided tour. Tours will take place every 30 minutes from 6:00 – 8:00 PM from Hensville. The event is open to everyone, so feel free to bring along your colleagues, family, and friends.
*Only water will be served on the 30-minute bike tour to honor the policy of the AIA's sponsor.   
For more information or to register for this event, click here.
You can follow any responses to this entry through the RSS feed. Both comments and pings are currently closed.