University of Toledo College of Engineering Spring 2017 Honors Convocation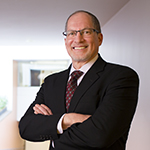 Friday, March 31, 2017
University of Toledo
College of Engineering
Nitschke Auditorium
1610 N Westwood Avenue
Toledo, Ohio
4:30 PM (EST)
SSOE's Vince DiPofi, PE, Chief Strategy Officer and Chairman of the Board, will serve as the keynote speaker at the University of Toledo College of Engineering Spring 2017 Honors Convocation event. All graduating seniors are invited to the event to participate in the Order of the Engineer ring ceremony. Additionally, the families and friends of a select group of graduates with academic honors will be in attendance.
A University of Toledo Alumnus with a Bachelor of Science in Mechanical Engineering, Vince is a key advisor to SSOE's CEO and facilitates strategy in conjunction with other business leaders. He has over 30 years of professional experience and serves on the advisory board at the University of Toledo for the Mechanical Engineering Department.
You can follow any responses to this entry through the RSS feed. Both comments and pings are currently closed.