OFCC Conference Cincinnati: "From BIM to VDC — Our Approach To Shifting Design Only To Integrated Project Delivery"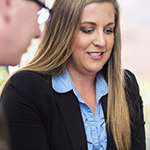 Wednesday, August 23, 2017
Holiday Inn Centre Park
5800 Muhlhauser Road
West Chester, Ohio
8:30 AM – 4:00 PM (EST)
Lauren Collier, Associate AIA, Department Manager, VDC Global Initiatives, will be speaking at the Ohio Facilities Construction Commission (OFCC) Conference in Cincinnati (West Chester), Ohio. Lauren will present her session, titled "From BIM to VDC — Our Approach To Shifting Design Only To Integrated Project Delivery", will take place at 11:00 AM (EST) in the Holiday Inn Ballroom.
Lauren plays a key role in SSOE's virtual design and construction (VDC) initiative, enforcing BIM and new technology strategy development and improvement corporate-wide. VDC represents a substantial evolution in how construction projects are delivered — and SSOE is a leader in its implementation.
For more information, click here.
You can follow any responses to this entry through the RSS feed. Both comments and pings are currently closed.