SSOE U BIM / VDC Conference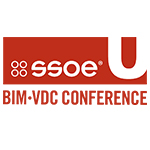 Monday, August 21 – Tuesday, August 22, 2017
Hilton Garden Inn
The Town Center at Levis Commons
Perrysburg, Ohio
SSOE U BIM / VDC Conference is a collaborative 2-day internal conference for SSOE employees to bring passionate and forward-thinking BIM / VDC practitioners together. The conference will feature hands-on labs, roundtable discussions, innovation forums, and networking opportunities. SSOE's subject matter experts will present their in-depth knowledge and best practices as well as connect with like-minded innovators, and influence a growing BIM community of practice within SSOE.
SSOE U will assist employees that typically work across SSOE's global offices to better foster their internal relationships with collaboration tools and techniques.
Click here to learn more about VDC at SSOE.
You can follow any responses to this entry through the RSS feed. Both comments and pings are currently closed.