Wireless Infrastructure Show: "Mount Analysis: The Solution for a Stronger Network"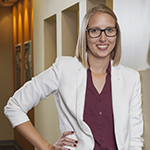 Monday, May 22 – Thursday, May 25, 2017
Rosen Shingle Creek
Orlando, Florida
Michelle Kang, PE, Telecommunications Section Manager at SSOE Group, will be speaking at the 2017 Wireless Infrastructure Show in Orlando, Florida. In a session titled "Mount Analysis: The Solution for a Stronger Network", Michelle will be part of a panel discussing the practical applications of mount analysis as well as the implications for the financial success of your business and longevity of the equipment that makes the network function. The session will take place on Wednesday, May 24th at 2:30 PM (EDT).
A structural engineer licenses in six states, Michelle is Chair of the Telecommunications Industry Association's (TIA) TR-14 Engineering Committee, which is responsible for the ANSI / EIA / TIA-222, Structural Steel Standards for Steel Antenna Towers and Supporting Structures standard. Recently, she has worked with leading industry engineers to develop what has become a new chapter in the TIA-222-H Standard, outlining mount analysis requirements. She is currently leading a group in the development of a technical bulletin for mount classification and design. Additionally, Michelle has co-authored two articles with SSOE's Lemmy Recinos in Above Ground Magazine titled "How to Analyze Antenna Mounts to Avoid Costly Consequences" and, most recently, "Mount Analysis Case Study: Why Small Modeling Changes Make A Big Difference".
For more information on the Wireless Infrastructure Show, click here.
You can follow any responses to this entry through the RSS feed. Both comments and pings are currently closed.