All Things Biodiesel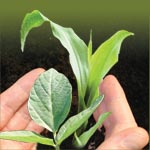 What do farmers, a rock band made up of bi-partisan members of congress, venture capitalists, J.R. Ewing, country singers and SSOE have in common? They all participated in the 2007 National Biodiesel Conference held in San Antonio,Texas. This meeting and exposition provides a forum for biodiesel producers and marketers, fuel distributors, biodiesel consumers, feedstock growers, processors, farmers, local, state and federal government employees, and fleet managers. It's where you find leaders and influencers from all aspects of the industry.
An impressive forty-five educational sessions ran the gamut of topics from the new diesel vehicles OEMs rolled out in 2007 to Bioheat™ touted as the "fastest growing and most exciting market segment" for biodiesel enthusiasts. Or you could find out the truth about NOx emissions or new uses for glycerin, a byproduct of biodiesel. There was a lot to learn.
Based solely on SSOE's broad experience in green energy (more than 10 ongoing projects), this event was a must.
Additionally, SSOE and its joint venture partner NewMech attended as part of CoreVentures, a team of companies with the combined expertise to take biodiesel and ethanol projects from inception through operation.
While SSOE / New Mech provides anything from site selection and feasibility to turnkey plants, CoreVentures rounds out the services with plant operations, business development, marketing, funding, feedstock procurement and more. The fact that this year's gathering set a new record for attendance and attracted almost double the number of exhibitors as last year attests to the growing importance of the American biodiesel industry.
You can follow any responses to this entry through the RSS feed. Responses are currently closed, but you can trackback from your own site.