Everything Old Is New Again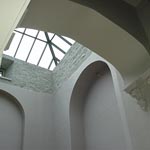 For more than 20 years, SSOE has focused on the growing needs of industry, the community, and government in the emerging metropolis of Nashville. The Richard H. Fulton Campus is being developed as the 'touch point' of the Metropolitan Government of Nashville and Davidson County – key facilities where the public interacts with the government.
"The special needs of both the general public and government workers, must be satisfied" notes R. Scott Schulz, AIA, architectural department manager in SSOE's Nashville office. "We are developing a campus master plan and complete infrastructure to support existing and future facilities on the campus. Being chosen for multiple projects on the campus is exciting because it allows us to give life and form to that plan."
The Old Metro Office Building, which was completed in 1919 is a cornerstone of the Edgehill Historic District. SSOE designed the North wing addition to appear as it did originally, increasing the building to its original size. A raised access flooring system complete with communications infrastructure was installed to accommodate technological advances and provide maximum tenant flexibility. In addition, accessibility and orientation issues were resolved by a new entrance, added to ensure everyone in the public felt welcome to enter.
The Lindsley Hall Building, located at the heart of the Richard H. Fulton Campus, is the second oldest limestone structure in Tennessee. It was originally designed as the University of Nashville and now houses the Metro Planning Commission. SSOE's architectural and engineering services in the renovation of this building were carefully completed – down to the details for guardrails in the atrium which reflects the original historic balusters and railings – to preserve the historic character of the structure while serving today's needs.
"This type of renovation isn't just about making the building look like it did when it opened because it's not being used in the same way," notes Scott. "It's about preserving the historical significance while making it function in an entirely different manner." As a member of this quickly growing community, SSOE's work throughout Nashville, Tennessee, is an opportunity to translate our understanding of how our client will use the facility into a result in which form walks hand-in-hand with function.
No matter who the client is or what the use, function is always an important component to a process or facility. SSOE has moved function further up the value chain integrating it not only into the end product, but also into the design process itself.
Lindsley Hall was built in 1853 and is the only surviving building from the now closed University of Nashville.
The Old Metro Office Building was originally used as a Methodist Hospital and has also been used as a Juvenile Court.
You can follow any responses to this entry through the RSS feed. Responses are currently closed, but you can trackback from your own site.