Fueling Local Economies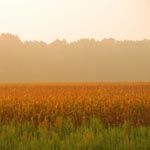 The emerging alternative energy market is improving not only the environment of the community in which it is located, but also its economic outlook. One example is SSOE's latest biodiesel project. Design is underway for a new $17 million agrifuel production facility owned and operated by Toledo-based American Biodiesel LLC. SSOE is providing all A/E services for the facility and detailed design for the installation of the process. The plant has dual benefits to the local economy, given that the source of the soybeans and soybean oil needed to manufacture the fuel is area farmers. David White, President of American Biodiesel, left no doubt of the company's stance. "It's important to us to support agribusiness locally and across Ohio. Local suppliers will be our first choice."
In contrast to other traditional manufacturing segments where U.S. jobs are shrinking, agrifuel production offers a stellar opportunity for adding workers. It's a relatively new process and the demand has never been higher. Toledo Mayor Carty Finkbeiner commented, "Renewable energy is critical to America's future; this project will create good-paying jobs and put Toledo at the forefront of a growing high-tech industry."
From every aspect, this plant is good news for Toledo and Ohio. The production of biodiesel involves a very clean process that does not produce any harmful byproducts. Combine that with the benefits to the local economy and people are more than willing to rally around the project. "We've found that each of these facilities has received widespread public support from the local community—much more so than other types of manufacturing facilities," stated Mark Hoffman, PE, SSOE's chief agrifuels expert.
The American Biodiesel plant is scheduled to be operational by the end of 2007. SSOE is also providing the facility design for two other biodiesel plants in Mason City, Iowa and Northeast Mississippi, four ethanol plants located throughout Ohio, and an additional ethanol plant in South Dakota.
You can follow any responses to this entry through the RSS feed. Responses are currently closed, but you can trackback from your own site.