Greenbuild 2007 Conference Highlights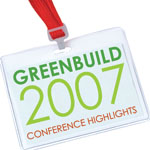 If you Google "green building" you get back 11,100,000 results. It's not surprising then that the 22,835 people who attended the "GreenBuild" conference in November had big expectations of what they would learn by attending.
SSOE was there. A cross-section of architects, engineers, and marketing people gathered information on products, trends, and issues related to this burgeoning field. These are among their observations about future directions in the expansive world of green building.
Overall, the transition to sustainable building is widely acknowledged to the point that people are embracing it with enthusiasm.
Sustainable practices have been voluntary and are growing in strength due to grass roots efforts. For example, the Ohio Schools Facility Commission is about to require that new buildings meet LEEDTM silver standards. Cities, like Chicago are restructuring their codes and adopting LEED standards for their buildings. And on the state level, California is developing many environmental product standards that protect human health and the environment.
The fact that the term "green building' is very much open to interpretation is problematic in creating specifications. The EPA is recommending that in addition to the procurement documents and the technical specifications, there needs to be another document informing bidders of their roles and responsibilities if selected for a green project because that affects overall pricing.
Judging from the exhibits, some manufacturers are applying the terms "green" and "sustainable" very liberally, otherwise known as 'greenwashing'. Buyers need to dig beyond labels and claims to determine how sustainable a product really is.
Former President Bill Clinton delivered the keynote address announcing an agreement between the Clinton Foundation and GE Real Estate to green all of the company's real estate operations, amounting to $72 billion in assets and 385 million SF of property in 31 countries.
Energy modeling—using computers and physics to measure how energy is used in a building—is a trend gaining strength. The use of these applications requires mechanical and electrical engineers to be involved earlier in the building design process and have an influence on the shape/design of the building.
Students in universities are pressuring faculties to add sustainability courses of study to their curriculums. And relative to graduating students, active sustainability efforts inside A/E firms are increasingly becoming a recruitment advantage.
The debates over how to measure the ROI of sustainable building projects continue. The question of how to quantify improved worker productivity, health, and job satisfaction muddies the discussion of real cost. The same is true when determining up front costs vs. lifecycle costs. One significant focus of LEED is to make a business case for sustainable practices because a core conviction of the program is that doing "green design" is more than a "feel good" exercise… it also makes good business sense.
You can follow any responses to this entry through the RSS feed. Responses are currently closed, but you can trackback from your own site.