Healthcare Costs: Soothing the Pain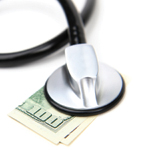 The different vested parties: insurance companies, physicians, consumers, and employers are, in fact, coming up with tactics to alleviate, if not cure, the situation. Even without new national programs, the landscape of the healthcare industry is changing from many perspectives.
Insurance companies
One reason insurance rates are high is because people are used to seeking medical attention whenever they want. Most people are oblivious to the real cost of a procedure or an office visit because they only pay a small fragment as a deductible or co-pay. And for those whose employers contribute to the monthly premium, even the full cost of the insurance is easy to ignore.
In January 2004, Congress passed an act allowing Consumer-Directed Health Plans (CDHPs). They involve two parts: a high-deductible insurance plan and a Health Savings Account (HSA). This is how the concept works: The consumer or employer pays a low premium for the coverage since it is a high-deductible plan. Theoretically, the difference in premium between that plan and a low deductible plan is deposited into the HSA. The consumer pays for medical expenses from the money in the account that can accumulate interest tax-free year after year if it is not used for healthcare.
Proponents of these accounts suggest that if you are a healthy individual in a position to benefit from the tax advantages of the HSA, then this type of insurance can save you money. Since the consumer is actually paying medical expenses out of their own account, CDHPs create a strong incentive to use healthcare services judiciously. Not only are you likely to think twice about seeing a doctor for a minor ailment, or stay an extra day in the hospital, you may want to comparison shop for some services such as teeth cleaning–which is one of hundreds of qualified expenses that can be paid out of an HSA.
HSAs are generating new opportunities for the financial services industry because they create a need for services to support this type of investment/account. For convenience sake, these accounts have the equivalent of a debit card to use when paying providers. And if a young couple has a CDHP they may want to max out their contribution to the HSA each year so they can accumulate enough to pay for maternity and baby care in the future.
Healthcare providers
Ask providers what's eating away at their paychecks; they'll tick off insurance payout caps, malpractice insurance, equipment costs, and facilities-related costs. In an effort to deliver services less expensively, large health systems as well as small group practices are finding ways to reduce costs where they can.
Until recently, large practices consumed considerable square feet on-site for records storage. According to Dr. Reed, President of Reed Medical Systems, "By changing to electronic medical records (EMR) groups are saving on the cost of additional space previously needed for paper records. And because EMR is a more accurate method of record keeping, it reduces errors which often take time and money to correct." Even creating a wireless network rather than running cable is a cost saver on new construction or renovations.
Physicians are also finding there is more to gain by sharing space, equipment and services than by being territorial in order to defend against competition. More and more multi-specialty clinics and ambulatory surgical centers are bringing smaller practices together under one roof. This creates an opportunity to share everything from reception areas to x-ray, to laboratory spaces and services. The trend toward building community-based outpatient clinics will continue as competition between providers is making consumer convenience a top priority.
SSOE is currently working with a university-based physicians group in the Midwest to create an Ambulatory Center of Excellence. Traditionally, university-based physicians balance their teaching duties with their private practices. Within the last two years, this group formed a large, 750 physician group practice to foster cross-specialty referrals, shared EMR support, shared administrative and patient processing functions, and suburban outreach from its current location. This is expected to promote greater efficiency, higher levels of patient service and satisfaction, and something more: an increased level of market penetration by offering these specialized, consolidated services.
Some of the strategies healthcare businesses are pursuing to buoy up their incomes are raising eye brows among more traditional providers and patients. Dermatologists are opening "Medi-Spas", or more modestly, selling lines of skin care products; clinics that conduct mammograms have added massage therapy or sell homeopathic remedies. Ear, Nose and Throat Specialists are doing plastic surgery, as part of their work on the eyes and nose. Physicians are hoping these forays into a more retail-like model will attract more patients while they create additional revenue streams in the same facility.
Time will tell whether physicians will pass some of the savings on facilities to their patients. Doing so just may attract those individuals with CDHPs and increase revenue in the long run.
All this redefining of the medical practice means facility design is in flux. For the present, architects are looking for ways to build flexibility into the design so the facility can better respond to change of use over time.
Employers
Many employers feel that shifting some of the whopping cost of healthcare insurance onto their employees is a bitter solution to a growing problem. But with increases topping 10% per year, employers are desperate for relief. One tactic is to improve the health of the employees making them cheaper to insure, less likely to use medical leave, and more productive. Studies show creating incentives for employees to live a healthier lifestyle pays off. Perks like smoking cessation and weight loss programs and on-site fitness centers have been around for a while.
More progressive, employee-focused companies, SSOE for example, have broadened that to include free lifestyle coaches focused on smoking cessation and weight, cholesterol, blood pressure, stress, and fitness management. SSOE also offers free disease-management coaches for those with asthma, diabetes, coronary artery disease, congestive obstructive pulmonary disease, and chronic kidney disease.
Some companies go so far as to offer a monetary award to employees who complete a health risk assessment or enroll in and complete a lifestyle management program.
According to Medical News Today, "a new study shows that public sentiment is shifting towards acceptance of higher health insurance rates for people with unhealthy lifestyles, giving human resources executives new ammunition to introduce employee health plan designs with incentives to pursue healthier habits. A relatively new angle that is gaining ground is providing financial incentives, such as lower premiums or co-payments, for employees who choose healthy behaviors like smoking cessation, exercise and weight control."
Insurance companies, providers, and employers are exploring other new options to cut the costs of healthcare. Which of these solutions will gain momentum and make a significant impact is still uncertain. But it is heartening to see the creative ways these entities are chipping away at a complex national problem.
You can follow any responses to this entry through the RSS feed. Responses are currently closed, but you can trackback from your own site.