Lean Construction: Small Changes Yield Significant Rewards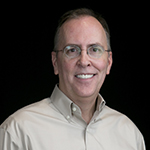 Across industries, companies seeking to maximize productivity and enhance process efficiency while delivering high-quality goods and services are increasingly turning to lean practices to improve the bottom line. Intelligent application of lean principles yield innovations and approaches that invigorate a business from within, causing a ripple effect of new thinking throughout the organization.
Making the shift from traditional management approaches to lean approaches is a bit of a journey, however. It takes time to make the requisite cultural shift to lean ways of thinking. Fortunately, lean philosophy informs small changes that can pave the way to significant rewards.
By way of example, SSOE recently partnered with New England High Purity (NEHP) to design and fabricate subfab lateral racks for a high-tech client. Analysis of lean principles led to the decision to assemble the racks in a shop setting rather than on site, which had been standard practice. Honing in on this one change was a winning proposition. Shop assembly translated to higher productivity, less material and labor waste, safer on-site conditions, and $22 million in documented savings for the client.
At face value, lean philosophy seems to be a straightforward application of good common sense. In reality, the paradox at the heart of lean explains why "going lean" is such a challenge. To think lean, you must both step back for a bird's eye view of your process and simultaneously step into another's shoes for true understanding of how the processes work.
In this spirit, SSOE hosted a gathering of trade contractors in late 2013 to discuss ways to improve collaboration with A/E firms and make design packages more useful. A few suggestions that came out of that meeting:
Provide contractors with a list of design personnel, their function, and contact information
Indicate which way floor boxes open
Provide fewer choices in design packages—list just a part or spec number
Ensure that locations of wall- or workstation-mounted devices (LSS, wall cuts, floor cuts) are consistent throughout packages
SSOE added relevant suggestions to internal checklists, but the collaboration's most significant benefits promise to unfurl as the lean journey continues. "Lean principles," says Gregg Howell, PE, co-founder and past president of the Lean Construction Institute, "emphasize understanding the problems foremen and trades experience. A new perspective on a situation allows for practical problem solving that can eliminate roadblocks and inefficiencies and ultimately save money and time."
As SSOE steadily adopts lean principles—work optimization through collaboration, continual improvement at all levels, delivering value desired by the owner or client, and allowing value to flow by eliminating obstacles and bottlenecks—clients will see increasingly productive work crews, maximized safety, minimized waste, and reduced overall cost. Examples of SSOE's early successes with lean initiatives for the high-tech industry are shown in the table. These strides into lean construction offer a glimpse of promising advances in capturing and capitalizing on long-standing opportunities for savings across the board.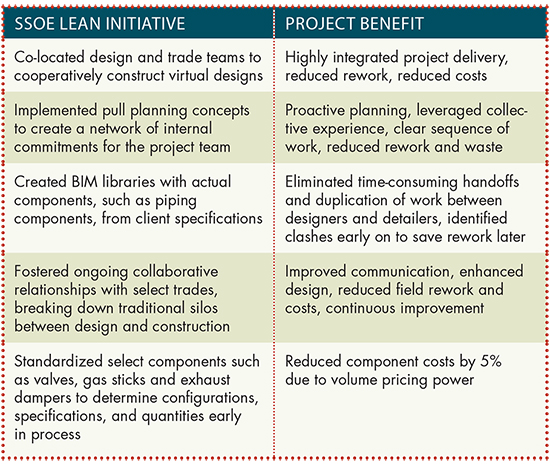 You can follow any responses to this entry through the RSS feed. Both comments and pings are currently closed.