Major Insights into the Mining Industry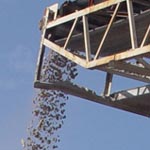 SSOE has offered a broad range of services to the mining industry for more than 10 years, but as the need for resources in China drives rapid growth, one of the most pressing issues is safety.
As recognized experts in designing cost-effective, cutting-edge fire protection and life safety systems, the mining and metals specialists at SSOE lead the development of plans to ensure safe workplaces. SSOE fire protection engineer Nick Mariano, P.E., recently presented a case study from his own experience demonstrating the importance of five-year life safety and fire protection plans to the Society of Mining Metallurgy and Exploration's Minnesota chapter. After two major fires in a short period, the mining firm in question was dropped by its insurance carrier and faced possible closure. Understanding how crucial a driver this insurance was to the mining company's business, SSOE used our knowledge of this industry to quickly develop a long-term fire protection upgrade strategy. This plan convinced a new insurance carrier to grant the mining company a policy and allowed them to secure financing for continued operations. As a result of this initial relationship, SSOE is now the company's trusted partner for ongoing fire protection needs. Through regular communication, SSOE has gained valuable insights into this client's business, and now, instead of waiting to respond to a crisis, we are able to suggest ongoing improvements that help avoid future crises.
Mining is one of the oldest forms of securing natural resources and energy in history. In order to help develop and improve renewable sources of energy, SSOE is now combining our expertise in both the petrochemical and food industries.
SSOE Services to the mining industry
Fire protection
Environmental
Wastewater treatment
Dust and fume collection
Structural
Bulk material handling
Conveying
Controls
Electrical engineering
You can follow any responses to this entry through the RSS feed. Responses are currently closed, but you can trackback from your own site.