"Measure Twice. Cut Once."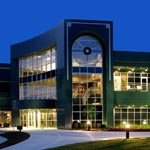 The four words of the carpenter's adage "Measure twice. Cut once." express a universal truth about the importance of planning before taking a step that you can't undo. On a much larger scale, clients who engage in master planning are heeding that same advice. Master planning typically involves a large parcel of land and a strategic plan for expansion that requires multiple facilities to be built over time.
SSOE's Ron Guiliani, PE, a Senior Project Manager was involved in two large master planning projects with projected expansion equaling 2 million square feet, one of which sits on 690 acres and has a 15-year timeline. Big master plans. The client, a global automotive manufacturing company, knew what they wanted to build but needed to determine what should go where, and in what phases.
An SSOE team of civil, mechanical, structural and electrical engineers, architects, and fire protection specialists are needed to address the multiple overlapping considerations that go into a master plan. Ron explains, "In addition to locating and laying out buildings, we planned for utility usage including water, gas, and electric. We forecast storm, sanitary, fire protection, and security requirements. Roads, retention ponds, parking lots, rail and truck access – all are accounted for." Master planning also necessitates researching local building codes and ordinances so that everything is in compliance.
While master planning relies on accurate computation of many quantifiables – like how many parking spaces will be needed for the building capacity – planning into the future is also about best guesses.
When SSOE's David Verner, AIA, worked with US Xpress on their master plan they looked ahead seven years. The rationale was that the first building on the 27-acre site, the headquarters, would require two years to complete and the company would need additional facilities five years later. SSOE planned the site accordingly. In those five years the company growth outpaced projections and a slow down wasn't likely. The company acquired another nearby parcel and SSOE devised a new 12-year plan consisting of four phases. The expanded campus includes the potential for future services to US Xpress employees: restaurants, a clinic, a convenience store, and a hotel.
"The master plan more than paid for itself," explained Kevin Schopf, Facilities Planner for US Xpress. "In the design phase SSOE found ways to use the space more efficiently which increased the capacity of each building from 300 to 400 people. SSOE saved US Xpress $6.5 million by reducing future building costs."
Master planning of health care facilities is compounded by the fact that outdated facilities are often on the site. David Zuza, a former hospital administrator who is part of SSOE's health care team observes, "Many hospitals were built immediately after WWII. The way we deliver health care has radically changed since then." The master planning process has to include assessing these existing buildings and determining whether to renovate or tear them down.
As tempting as it might be for an enterprise to put off master planning to get an initial building up and running as quickly as possible, it's a risky decision. It involves committing capital in ways that limit future options. Far better to spend the time and money to measure, even once, then cut.
You can follow any responses to this entry through the RSS feed. Both comments and pings are currently closed.