SSOE Appoints a New Sustainable Design Coordinator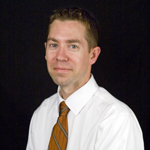 SSOE recently appointed Kris Phillips Associate AIA, LEED AP BD+C, to the newly created position of Sustainable Design Coordinator. Phillips will oversee all of SSOE's activities related to LEED® and the implementation of sustainable design practices into projects. He will also be responsible for coordinating LEED resources within the company.
In his more than 10 years of professional experience, Kris Phillips has been very involved with sustainable design within SSOE's Facilities group. He has served on SSOE's Sustainable Design Committee from its inception and has played a major role in the management of the LEED certification process for many SSOE projects.
Jerry Carter, Business Leader for SSOE's Sustainable and Renewable Solutions group, says "This appointment is critical as SSOE continues to focus on driving sustainability into all of its projects and managing its growing number of LEED resources." Phillips will be very active in determining SSOE's strategy for converting existing LEED AP staff to the new LEED credentialing program and in supporting the continuing education needs of those who make the conversion.
Kris received a Bachelor of Arts degree in Design, with a focus on Architecture from Clemson University. He completed his professional education at Lawrence Technological University graduating with honors in the Master of Architecture program with a concentration in sustainability and received the King Award for research in architecture and sustainability for his thesis on Biomimetic Architecture. Kris is a member of the United States Green Building Council and a founding member of the Northwest Ohio Chapter of the USGBC where he is currently serving as a board member.
You can follow any responses to this entry through the RSS feed. Responses are currently closed, but you can trackback from your own site.