If your boiler is among the 14,000 that are likely to be affected by the Boiler MACT Rule, its time to get serious about a compliance plan.
Facts & Impacts
The much debated Boiler MACT rule sets new, lower limits for the emission of hazardous air pollutants (HAPs) from industrial, commercial, and institutional boilers. It also requires boiler facilities to follow certain work practice standards. Facilities across the country are, wisely, creating their compliance plans now.
Steps to take:
Make certain you understand the regulations and determine which ones, if any, apply to your facility.
Very early on you may need to perform stack testing or fuel testing in order to measure your emission levels.
Assess what outside resources are needed to evaluate and / or implement a plan and get those resources engaged early in the process.
If you are over the acceptable levels of HAPs for your type of operation it's time to develop a detailed plan for addressing the problem. You will want to consider various solutions. The two most common ones are switching your fuel type to natural gas or adding pollution control equipment. However, performing an expert analysis can reveal creative approaches either as part of, or an alternative to, those typical solutions.
Evaluate each of the options including both capital and operating costs, risk assessments, and the development of a project timeline.
After a path forward has been determined, gain approval for the selected expenditure.
Implement the changes. It's likely that these are time-consuming changes with long-lead time. So the time to act is now.
For more information on how SSOE can help, please contact us at services@ssoe.com.
For a PDF copy of the mailer you received click the thumbnail below.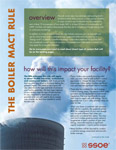 You can follow any responses to this entry through the RSS feed. Both comments and pings are currently closed.
Tagged MACT