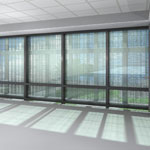 In an effort to improve safety and communication at their Lima Refinery, Husky embarked on a plan to relocate all non-essential personnel away from blast risk zones to a centralized location outside the battery limits of the production facility. They called upon SSOE's extensive refinery expertise and familiarity with blast resistant structures to design their new control building. SSOE provided full architecture and engineering for the 250,000 SF, two-story structure, which consists of a central control room, laboratory, warehouse, maintenance shops, vehicle repair center, and unit personnel housing.
When Marathon's safety management team prioritized a gaseous chlorine elimination project at its refinery in Canton, Ohio, SSOE proved integral to improving safety efforts at the plant. Having successfully completed previous petroleum refinery work for Marathon, SSOE applied its expertise in chemical and process engineering to execute the project.
As part of the scope, SSOE oversaw design of the transition away from using liquid chlorine to chlorinate two cooling towers. The new design used sodium chlorite, bleach, and sulfuric acid to create chlorine dioxide needed to kill bacteria in the cooling towers.
Continue reading this profile →
With an outdated and unreliable catalyst addition system in place, Marathon found it was losing the ability to keep process yields at optimal levels because they were unable to add catalyst when necessary. SSOE was secured to implement the change Marathon needed to improve conversion of its heavier feedstocks into gasoline and lighter fractions.
Consistently ranked as a top industrial process and chemical design firm, SSOE applied its experience in petroleum refinery processes to provide recommendations for installation of the third-party addition system.
Continue reading this profile →