When this pharmaceutical client realized its current production facility could not meet rising product demand, it looked to SSOE to provide the design of its new solid dosage production facility. As with any pharmaceutical production facility, emphasis was placed on maintaining a clean environment that adheres to cGMP standards. To achieve this, an interstitial space was created to provide access to all equipment and associated power, lights, compressed air, and filters located above production spaces. The creation of this interstitial space enabled corridors and production suites to remain uncompromised during routine and preventative maintenance.
Continue reading this profile →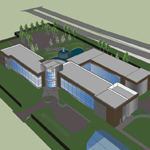 SSOE was chosen to create a master plan and design for a Pharmaceutical Client to not only reflect the entrepreneurial spirit and corporate brand that is representative of this client, but also to position the company appropriately for future projected growth. SSOE provided an overall assessment of the site to situate the new Research and Development (R&D) laboratory and future corporate headquarters in such a manner to promote oversight and engagement with the existing campus and manufacturing facilities, while also offering a formal gateway and introduction of the client's innovation to the public.
When this pharmaceutical manufacturing client wanted to expand their warehouse to house pharmaceutical finished products, SSOE had the expertise needed to lead the project as well as an understanding of the client's expectations through an existing relationship.