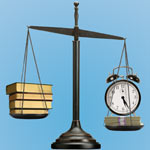 No matter how many building projects you undertake, early in the process you face myriad decisions that significantly impact capital, operational cost, and time. Now more than ever, the pressure is on to eke out any advantages, from the initial programming phase forward.
To get a perspective on your decision making, imagine a scale. On one side of the scale are information gathering, research, and intelligence. On the other side are calculated risk and a bold-faced clock that ticks away potential revenue that is lost until you become operational or open for business. Keep in mind that striking the right balance is not all up to you. Professional input is there for
the asking on all these decisions.
Decision #1: Selecting the best site for a specific building project.
The challenge is to get critical information in hand to intelligently compare several sites in a reasonable amount of time. There are three issues you can't afford to neglect as you go through the evaluation process: What will it take in terms of time and money to develop them, to build on them and, possibly the most challenging, what kinds of entitlements will be involved?