Adrienne Taylor of SSOE Group Named Ohio's 2013 Young Engineer of the Year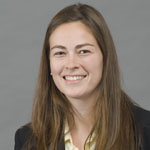 TOLEDO, Ohio, August 5, 2013 – SSOE Group (www.ssoe.com), a global engineering, procurement, and construction management (EPCM) firm, announced today that Adrienne Taylor, PE, has been named "Young Engineer of the Year" by the Ohio Society of Professional Engineers (OSPE). Adrienne was presented this honor in recognition of her exemplary community, civic, and professional undertakings as well as enthusiasm for the engineering profession and dedicated efforts to support activities of OSPE and the Toledo Chapter.
Joe Cherry, PE, President of the Toledo Chapter of OSPE and fellow colleague at SSOE, shared his excitement about the award, "I was thrilled to see that one of SSOE's best and brightest received recognition in 2012 as Toledo's Young Engineer of the Year. Being named Ohio's Young Engineer of the Year in 2013 is an even more prestigious honor and well deserved by Adrienne. I've had the honor of witnessing firsthand how Adrienne successfully manages and leads a team of engineers and designers and know that she has earned this recognition. Congratulations!"
Adrienne is a chemical process engineer in SSOE's Toledo, Ohio office and a current member of The National Society of Professional Engineers (NSPE), Ohio Society of Professional Engineers (OSPE), and serves as the Vice President and Director of Programs for The Toledo Society of Professional Engineers (TSPE). Additionally, she is actively involved with Toledo's Engineer Week and has been named the chairperson for the events in 2014. In 2011,  she became the leadership co-chair for organizing SSOE's annual Engineer for a Day Program – part of National Engineers Week, where students from local high schools are invited to explore the career path of engineering.
Taylor is a 2003 graduate of the University of Dayton with a Bachelor of Science in Chemical Engineering and has been with SSOE since 2005. With a strong commitment to both personal and professional development, Adrienne earned her Professional Engineering (PE) license for the state of Ohio in 2011. In addition to her recognition as "Young Engineer of the Year" from OSPE, Adrienne was previously named "2012 Young Engineer of the Year" by the Toledo Society of Professional Engineers (TSPE).
The award was presented at OSPE's Awards Luncheon on June 15, 2013 as part of the 2013 OSPE Spring Continuing Professional Development Conference and Annual Member Meeting held at Ohio University in Athens, Ohio.
About OSPE
OSPE, a state affiliate of The National Society of Professional Engineers (NSPE), was established in 1878 to promote the ethical conduct of practicing professional engineers, high standards for engineering education, and to advance public safety and welfare. OSPE represents all disciplines and practice divisions of the engineering profession: industry, private practice, government, construction, and education.
For more information, call OSPE at 1-800-654-9481 (223-1144 in Columbus) or visit http://ohioengineer.com/.
About SSOE Group
As a Top 10 Engineering / Architecture firm for the past 5 years, SSOE Group focuses on delivering Great Client Service to clients through a full range of project delivery solutions. They have been named a "Great Workplace" (Great Place to Work®) and one of the "Best AEC Firms to Work For" (Building Design + Construction).
With more than 20 offices around the world, SSOE is known for making its clients successful by saving them time, trouble, and money. Over the company's 65+ year history, it has earned a reputation for providing quality project solutions to semiconductor, automotive, food, chemical, glass, manufacturing, healthcare, power, and general building industries—with projects completed in 40 countries. Visit www.ssoe.com for additional information and career opportunities.
Media Contact:
Jenni Roder
(419) 469-1918
(419) 351-6480 cell
jroder@ssoe.com
You can follow any responses to this entry through the RSS feed. Both comments and pings are currently closed.
Tagged chemical-feature, Design Feature, engineering-feature