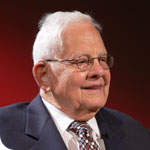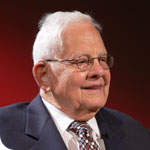 Toledo, OH, March 19, 2009 – SSOE, one of the nation's largest architecture and engineering firms, is mourning the passing of its founding father, Alfred H. Samborn. Mr. Samborn died this morning at 4:30 am CST in Glenview, IL, at the age of 91.
Born in Toledo April 30, 1917, Mr .Samborn earned a civil engineering degree from The University of Toledo in 1939 and completed graduate study at Case School of Applied Science in Cleveland. He started his career as a structural engineer for a Detroit firm in 1941. During WW II, he enlisted in the military service and was part of the V7 Program as an apprentice seaman, advancing to the rank of lieutenant in the Civil Engineering Corps (Seabees) of the United States Naval Reserve.
On October 12, 1947 Miriam 'Peggy' Mann and Alfred Samborn were married. Just one year later in 1948 Mr. Samborn founded A.H. Samborn & Associates with a vision of creating a world-class full service engineering and design firm. His 2 ½ person company grew into the 900-employee firm of SSOE, Inc. with 19 offices worldwide including corporate offices in Toledo.
Throughout his career, Mr. Samborn served in numerous professional capacities including President of the Toledo and Ohio Societies of Professional Engineers, director of the National Society of Professional Engineers, a member of the Ohio State Board of Registration for Professional Engineers, and president of the National Council of Engineering Examiners. In addition, he was the driving force behind his firm's advancement into the application of computers to engineering design and is the author of many technical papers and articles.
In 1984, Mr. Samborn stepped down as SSOE's CEO and became a civil engineering professor at the University of Toledo, serving for over a decade. He was also involved in a number of civic organizations including the American Red Cross, the United Way, Old Newsboys Goodfellow Association, Downtown Toledo Associates, Toledo Council for Business, Sight Center of Northwest Ohio, the UT Alumni Foundation, and Tower Club.
Mr. Samborn received numerous awards for his community service and business leadership throughout his career. In 1966 he was named the Toledo Engineer of the Year and in 1976 he was honored with the Old Newsboys' Appreciation Award. Mr. Samborn received the Gold "T" Award from the UT Alumni Association in 1980 and was honored by the College of Engineering in 1995 as the Distinguished Alumni of the Year. In 2007 he was honored with the Toledoan of the Year award for Innovation for his numerous contributions to the region.
Mr. Samborn was preceded by his wife Peggy in death and leaves behind two sons Michael (Martha) and Randall (Hope), and their grandchildren Eve, Sarah, and Benjamin.
The family will receive guests Sunday March 22nd at 11:30 am, the funeral at 12:00 pm at Wick Funeral Home on Reynolds Road. Graveside services will be held immediately following at Beth Shalom Cemetery, Oregon. Friends and family will be received after the services at Temple Shomer Emunim.
Wick Funeral Home
2426 North Reynolds Road Toledo, OH
Temple Shomer Emunim
6453 Sylvania Avenue Sylvania, OH 43560
For more information on Mr. Samborn, please visit Samborn Nomination .
It is suggested that those who wish to honor the memory Mr. Samborn may do so by making a contribution to:
The University of Toledo Foundation
Alfred H. Samborn/SSOE, Inc. Scholarship (#300-037) or Alfred H. Samborn Distinguished Lecture Series (#300-261). Contact Deborah Perry 419.530.6175 or the charity of the donor's choice. Please do not send flowers.
# # #
Contact:
Catherine Malicki
SSOE, Inc.
Office: 419.255.3830
cmalicki@ssoe.com
https://www.ssoe.com/wp-content/uploads/2009/03/150x150_SSOE_samborn-passes-away-at-the-age-of-91.png
150
150
hitch
https://www.ssoe.com/wp-content/uploads/2018/05/logo_ssoe.png
hitch
2009-03-19 14:25:23
2018-07-12 15:20:37
Alfred H. Samborn, Founder of SSOE Passes Away at the Age of 91