CCCL Infrastructure Ltd. and SSOE Set to Exhibit Pearl City Food Port SEZ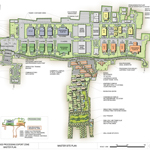 TOLEDO, Ohio, October 23, 2009 – SSOE Group and CCCL Infrastructure Ltd. are sharing their development plans for the Pearl City Food Port Special Economic Zone (SEZ) at the Worldwide Food Expo (WWFE) in Chicago October 28 – 31st. This is a first of its kind special economic zone coming up in India being established exclusively for food processing—giving manufacturers distinct tax and tariff advantages.
Pearl City Food Port is a 400 acre SEZ in Tuticorin, India with sites for global food manufacturers who want to expand their global reach throughout India. The site addresses a number of issues facing manufacturers entering this growing market through features like dedicated and reliable utilities and access to food-specific, shared facilities which reduce the cost of getting manufacturing operations up and running. This is apart from a range of tax benefits that the government of India is allowing through the SEZ policy.
The SEZ is located in close proximity to a major international sea port at Tuticorin, airport, railways, and highways to ease the movement of goods in and out of the site. The site also has an excellent and diverse raw material catchment. In addition, Pearl City Food Port contains its own secure residential township with provisions for, housing, school, healthcare facilities and recreation areas, as well as shopping for its employees, who are expected to hail from all over the globe. SSOE Group, ranked third among green industrial and manufacturing design firms and fourth among food processing firms by Engineering News Record (ENR), designed the master plan for Pearl City which allows manufacturers to get a conceptual view inside the site and potential manufacturing spaces. The plan is a whole-site layout, defining parameters for the common facilities for the industry, manufacturing plants, commercial, housing, and green space.
The WWFE exhibit will give food manufacturers the chance to view a video featuring a narrated fly through of the 3D rendering of Pearl City."We're excited about the opportunity to partner with CCCL on this project and to give those attending the expo a close up and personal view of the site," said Vince DiPofi, PE, Senior Vice President at SSOE Group. "They will see firsthand the advantages of locating at the Pearl City site."
CCCL Marketing and Business Development Leader, Mani GVS, said the work at site has begun and is gathering pace. "We expect basic infrastructure like internal road layout, availability of power, water, customs office, admin building, business office space for new clients, backup power, modular components for ETP, WTP, STP and also tie-ups with the government for long term supply of utilities like power, water, road expansion to be ready to go by end of March, 2010," he said. The company is also in talks with a variety of companies to associate with the SEZ for creation and operation of common facilities like cold stores, logistics zone, food testing lab etc. "Pearl City Food Port is a unique solution for food manufacturers looking to expand their global markets by using this SEZ as a manufacturing hub for their global and Indian aspirations.
The World Wide Food Expo is the largest food and beverage technology event in North America with this year's attendance estimated at close to 20,000.
About SSOE Group
As a Top 10 Engineering / Architecture firm for the past 5 years, SSOE Group focuses on delivering Great Client Service to clients through a full range of project delivery solutions. They have been named a "Great Workplace" (Great Place to Work®) and one of the "Best AEC Firms to Work For" (Building Design + Construction).
With more than 20 offices around the world, SSOE is known for making its clients successful by saving them time, trouble, and money. Over the company's 65+ year history, it has earned a reputation for providing quality project solutions to semiconductor, automotive, food, chemical, glass, manufacturing, healthcare, power, and general building industries—with projects completed in 40 countries. Visit www.ssoe.com for additional information and career opportunities.
Media Contact:
Jenni Roder
(419) 469-1918
(419) 351-6480 cell
jroder@ssoe.com
You can follow any responses to this entry through the RSS feed. Responses are currently closed, but you can trackback from your own site.