Craig Pickerel of SSOE, One of First to Earn Evidence Based Design Accreditation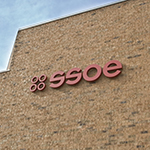 TOLEDO, Ohio, January 19, 2010 – Craig Pickerel of SSOE Group, a global architecture, engineering and program management firm, recently became one of the first to receive an evidence based design accreditation and certification (EDAC) from The Center for Health Design (http://www.healthdesign.org/edac/). The accreditation has been offered for less than a year and has been awarded to only 250 professionals to date. Mounting scientific evidence supports the Evidence Based Design approach to healthcare facility design and its correlation to successful patient outcomes. The EDAC accreditation tests individual knowledge and understanding of how to base healthcare building design decisions on credible research evidence and project evaluation results.
According to Pickerel, the information he learned from The Center for Health Design can be applied to non-healthcare projects, as well. "These tools can improve any type of project, new or existing," he said. "However, the EDAC principles remain critical in the healthcare industry because every design decision can greatly influence the environment of care and healthcare outcomes."
Recently, Pickerel successfully met the necessary requirements to become a registered Ohio architect. To obtain this status, Pickerel was required to pass a series of seven state-mandated licensing exams. In addition to passing the licensing exams, the candidate must complete an Intern Development Program and hold a degree from a university accredited by the National Architecture Accrediting Board.
Pickerel holds a Master of Architecture degree from the University of Michigan and an undergraduate degree in architectural and environmental design from Bowling Green State University. Pickerel is accredited by the United States Green Building Council for leadership in energy and environmental design (LEED®), as well.
About SSOE Group
SSOE Group is an international EPCM firm ranked eleventh among the largest engineering and architecture firms (Building Design + Construction, 2009). SSOE has also been named one of the "Best AEC Firms to Work For" (Building Design + Construction) and as one of the fastest-growing firms by Inc. Magazine, 2009 and ZweigWhite, Hot List 2009.
With 19 offices around the world, SSOE is a leader in providing sustainable and renewable solutions. The company has earned a solid reputation providing architecture, engineering, procurement, and construction management services to the healthcare, automotive, science and technology, energy, alternative energy, biofuels, chemical, food and beverage, glass, and consumer products industries. SSOE has completed projects in more than 30 countries. Visit www.ssoe.com for additional information and career opportunities.
Media Contact:
Jenni Roder
C: 419.351.6480
O: 419.255.3830 x1362
jroder@ssoe.com
About SSOE Group
As a Top 10 Engineering / Architecture firm for the past 5 years, SSOE Group focuses on delivering Great Client Service to clients through a full range of project delivery solutions. They have been named a "Great Workplace" (Great Place to Work®) and one of the "Best AEC Firms to Work For" (Building Design + Construction).
With more than 20 offices around the world, SSOE is known for making its clients successful by saving them time, trouble, and money. Over the company's 65+ year history, it has earned a reputation for providing quality project solutions to semiconductor, automotive, food, chemical, glass, manufacturing, healthcare, power, and general building industries—with projects completed in 40 countries. Visit www.ssoe.com for additional information and career opportunities.
Media Contact:
Jenni Roder
(419) 469-1918
(419) 351-6480 cell
jroder@ssoe.com
You can follow any responses to this entry through the RSS feed. Responses are currently closed, but you can trackback from your own site.