"Giants 300″ Survey Confirms SSOE's Commitment to BIM Technology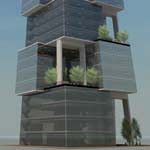 TOLEDO, Ohio, July 22, 2009–SSOE, (www.ssoe.com ) a global EPCM firm, has been named ninth among the top 170 Building Information Modeling (BIM) Adapters by Building Design + Construction (BD+C) magazine. This is the first annual BIM ranking for BD+C, one of the A/E industry's long established publications. The ranking was part of the magazine's "2009 Giants 300 Survey."
BIM gives architects and engineers the opportunity to virtually guide a project by creating real-world simulations of the building process. "SSOE saw the value in using 3D technology early in the game," said Michael Vincent, BIM Technology Manager and Senior Associate at SSOE. "To be recognized by BD+C for our proficiency with BIM attests to SSOE's commitment to technologies that adds value for our clients."
SSOE continues to expand its BIM capabilities by executing 100% of all new projects using 3D technology. Vincent attributes, in large part, the success of SSOE's BIM initiatives to CEO Tony Damon's commitment to the company's research and development department. "The fact that our CEO embraced BIM in the very early stages of its development has given us a distinct competitive advantage. Now, our expertise in 3D technology allows us to develop compressed project schedules, construction and operational costs. Overall, it gives us the ability to give our clients better service and precise project imaging," Vincent said.
SSOE added 150 BIM seat licenses in 2008, bringing the current total to 500. Another 50 licenses are scheduled to be added by 2010. In contrast, the BD+C survey showed that, among those firms surveyed in the "Giants 300," the average number of BIM seat licenses were 106. Vincent pointed to SSOE's status as a dual platform company as another factor in SSOE's successful use of BIM. "We use both Autodesk's and Bentley's Building Information Modeling applications on a regular basis for production," Vincent said. "That duality gives us more options and provides additional opportunities for our clients."
About SSOE Group
As a Top 10 Engineering / Architecture firm for the past 5 years, SSOE Group focuses on delivering Great Client Service to clients through a full range of project delivery solutions. They have been named a "Great Workplace" (Great Place to Work®) and one of the "Best AEC Firms to Work For" (Building Design + Construction).
With more than 20 offices around the world, SSOE is known for making its clients successful by saving them time, trouble, and money. Over the company's 65+ year history, it has earned a reputation for providing quality project solutions to semiconductor, automotive, food, chemical, glass, manufacturing, healthcare, power, and general building industries—with projects completed in 40 countries. Visit www.ssoe.com for additional information and career opportunities.
Media Contact:
Jenni Roder
(419) 469-1918
(419) 351-6480 cell
jroder@ssoe.com
You can follow any responses to this entry through the RSS feed. Responses are currently closed, but you can trackback from your own site.
Tagged Government Feature