Hurner Promoted to Marketing Business Leader and Senior Associate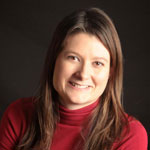 Toledo, Ohio, February 16, 2012 – SSOE Group (www.ssoe.com), an international engineering, procurement, and construction management (EPCM) firm, announces the promotion of Betsy Hurner to Marketing Business Leader, Senior Associate.
Betsy started her marketing career at SSOE nearly 12 years ago as a marketing intern through an internship she received through The University of Toledo. Betsy has held positions of increasing responsibility from her days as an intern including Operations Marketing Coordinator for the Industrial Process Team, Corporate Marketing Coordinator, and most recently Corporate Marketing Manager.
Betsy received her MBA from the University of Toledo in May 2007 and was Valedictorian of the College of Business in May 2001 when she graduated with a Bachelor of Business Administration. Both degrees were earned with concentrations in marketing.
In Betsy's new position, she is responsible for creating and administering marketing plans for our key sectors and leading the teams needed for implementation. In addition, she will now be responsible for the management of SSOE's research function.
"Betsy's focus on driving the business, continuous improvement, and openness to change has allowed her to easily transition into her new role and responsibilities. She has been a great asset to SSOE's past growth and undoubtedly will continue to be in the future." said Catherine Malicki, SSOE's Vice President and Global Director of Marketing / Public Relations.
About SSOE Group
As a Top 10 Engineering / Architecture firm for the past 5 years, SSOE Group focuses on delivering Great Client Service to clients through a full range of project delivery solutions. They have been named a "Great Workplace" (Great Place to Work®) and one of the "Best AEC Firms to Work For" (Building Design + Construction).
With more than 20 offices around the world, SSOE is known for making its clients successful by saving them time, trouble, and money. Over the company's 65+ year history, it has earned a reputation for providing quality project solutions to semiconductor, automotive, food, chemical, glass, manufacturing, healthcare, power, and general building industries—with projects completed in 40 countries. Visit www.ssoe.com for additional information and career opportunities.
Media Contact:
Jenni Roder
(419) 469-1918
(419) 351-6480 cell
jroder@ssoe.com
You can follow any responses to this entry through the RSS feed. Both comments and pings are currently closed.