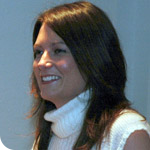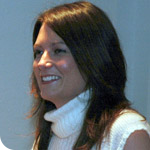 TOLEDO, OH, October 31, 2007 – SSOE's own Betsy (Conklin) Hurner, Corporate Marketing Manager and Associate, lead a presentation and discussion on marketing as a career at the University of Toledo's College of Business Tuesday night. With seven years of marketing experience at SSOE and as a former graduate of UT, she is uniquely qualified to talk about her experiences and help guide students on their career paths. Topics discussed included common misconceptions of marketing, true explanation of a marketer's roll in the operation of a company and how to prepare for a career in this field.
"There are a number of emerging trends in marketing that lend themselves especially well to college students who thoroughly prepare themselves for entering the workforce," explained Mrs. Hurner. "Companies are in need of marketing professionals poised to take on issues such as the increased interactivity of websites, the commercial use of social networking sites, and green marketing. All of these are issues with which today's graduates, more so than any other generation, has firsthand experience."
She was invited to speak by the fraternity Alpha Kappa Psi, a national business fraternity that conducts professional programs intending to help its members gain experience in organization, administration, management, leadership, public relations and service. The fraternity is putting on a week long event hosting speakers from all different industries to introduce and explain careers in their fields giving new options to students.
Hurner received her MBA from the University of Toledo in May 2007 and was Valedictorian of the College of Business May 2001 when she graduated with a Bachelor of Business Administration, both with a concentration in marketing. She began her career at SSOE through an internship she received through UT in 2000 and this fall was promoted to Corporate Marketing Manager and made an associate of the firm.
https://www.ssoe.com/wp-content/uploads/2007/10/150x150_SSOE_hurner-speaks-at-the-university-of-toledo-college-of-business.png
150
150
hitch
http://www.ssoe.com/wp-content/uploads/2018/05/logo_ssoe.png
hitch
2007-10-31 15:12:22
2018-07-12 15:55:00
Hurner Speaks at the University of Toledo College of Business