Industry Leader Enhances Security for SSOE Clients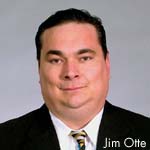 Toledo, Ohio – SSOE, Inc. announces the addition of Security and Safety engineering to their listing of professional services and welcomes an industry leader to its ranks. Post 9/11 America requires safety and security in every operational facet far beyond airport metal detectors and baggage x-ray systems. Corporate, retail and manufacturing firms rely on a vast array of monitoring devices to keep their businesses safe and reduce losses from theft, both internally and externally. SSOE now provides cutting-edge engineering services for security and access control; loss prevention; fire detection and suppression; covert surveillance and tracking systems; voice and data network and communication systems; sound and sound masking; environmental monitoring and more.Leading the firm's efforts is industry expert: James L. Otte.
The writer of several patents for new communication methods and data distribution, James Otte joins SSOE as Senior Designer and Fire Security Communications Systems Group Leader. Mr. Otte brings over 20 years' experience to the firm from a founding leadership position at Corporate Protection Services, Inc. of Toledo, as a co-founder of Glass City Internet of Toledo, and in the role of Director of R&D at LightSource Telecom. Mr. Otte's inventions include electronic devices and software which are now universally utilized throughout the security industry, including an electronic metal key access control system currently used in Las Vegas' Mirage and Treasure Island hotels. He has assisted Microsoft, Lucent and Cisco in the creation of new products and introduced new methods of delivery of such products to market. In the high-speed data and video transmission arena, Mr. Otte has developed new DSL deployment methods utilizing spectrum manipulation to increase communication transmission speed. He holds several certifications in Fire, Security and Communications.
SSOE, Inc. is ranked the 14h largest engineering and architecture firm and 5th among industrial design firms (Building Design & Construction, 2006). With 14 offices in the U.S. and one in Shanghai, SSOE has completed projects in 48 states and 32 foreign countries. SSOE has earned a solid reputation in process engineering and facility design for the alternative energy, automotive, chemical, education, food, glass, healthcare, mining, personal care and retail markets.
About SSOE Group
As a Top 10 Engineering / Architecture firm for the past 5 years, SSOE Group focuses on delivering Great Client Service to clients through a full range of project delivery solutions. They have been named a "Great Workplace" (Great Place to Work®) and one of the "Best AEC Firms to Work For" (Building Design + Construction).
With more than 20 offices around the world, SSOE is known for making its clients successful by saving them time, trouble, and money. Over the company's 65+ year history, it has earned a reputation for providing quality project solutions to semiconductor, automotive, food, chemical, glass, manufacturing, healthcare, power, and general building industries—with projects completed in 40 countries. Visit www.ssoe.com for additional information and career opportunities.
Media Contact:
Jenni Roder
(419) 469-1918
(419) 351-6480 cell
jroder@ssoe.com
You can follow any responses to this entry through the RSS feed. Responses are currently closed, but you can trackback from your own site.