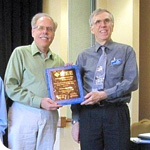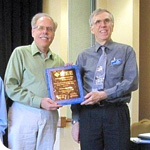 Phoenix, Arizona, January 18, 2013 — SSOE Group (www.ssoe.com), a global engineering, procurement, and construction management (EPCM) firm, is proud to announce that Russ Kinner, PE, has been recognized by IEEE for exceptional performance as Region Treasurer. Kinner is a senior electrical engineer in SSOE's glass / manufacturing division.
Kinner's involvement with IEEE began in Toledo, Ohio in the 1980's. There he served almost every office and held the title of Chairman in 1989 and again in 1997. Upon relocating to the Phoenix, Arizona area, Kinner continued involvement with IEEE as a senior member and in 2011 took on the position of Treasurer for the Phoenix Section. When an opportunity to serve as the Western U.S. Region Treasurer presented itself, Kinner welcomed the challenge. His responsibilities included management of financial records, development and submission of the Region's annual report from the prior year, balancing bank account statements, and conversion of all data records into new software in record time for an annual audit by IEEE's financial team, all while balancing his full-time assignments for SSOE .
In recognition for his superior efforts, Kinner was presented with a plaque honoring his achievements and dedication to the organization at a recent IEEE Regional meeting. Additionally, he was asked to serve as Region Treasurer for the 2012-2014 term.
During Kinner's 27 years of involvement with the organization, he has received many awards from IEEE including IEEE Third Millennium Award (2000), IEEE-USA Professional Achievement Award (2001), and most recently, a Special Chair Award from the Phoenix Section of IEEE (2010).
Kinner is a graduate of the University of Toledo, holding a bachelor's degree in electrical engineering and has been with SSOE since 2007. In his position, he is responsible for guiding electrical / controls projects as well as performing this function within multi-discipline projects. His other duties include preparation of drawing packages, bills of material, programming of PLC and HMI, coordination with contractors, and performing equipment commissioning.
About IEEE
IEEE is the world's largest professional association dedicated to advancing technological innovation and excellence. The IEEE has more than 400,000 members in 160 countries; more than 50 percent of whom are from outside the United States and more than 107,000 student members. Members are engineers, scientists and allied professionals whose technical interests are rooted in electrical and computer sciences, engineering, and related disciplines.
For more information visit: http://www.ieee.org/about/today/at_a_glance.html
https://www.ssoe.com/wp-content/uploads/2013/01/150x150_SSOE_kinner-receives-region-director-special-award-from-the-institute-of-electrical-and-electronics-engineers.png
150
150
hitch
http://www.ssoe.com/wp-content/uploads/2018/05/logo_ssoe.png
hitch
2013-01-18 14:00:35
2018-07-11 17:14:11
Kinner of SSOE Receives Region Director Special Award from the Institute of Electrical and Electronics Engineers (IEEE)