New Ethanol & Biodiesel Refineries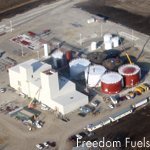 TOLEDO, Ohio, September 1, 2006 – With rising prices at the pump, interest in alternative fuels is at an all-time high. Americans are seeking solutions. Toledo, Ohio-based Architecture and Engineering firm SSOE announced today that it has been commissioned to build two new biodiesel plants and one ethanol plant to help provide Americans with alternative fuel choices. The biodiesel plants, located in Mason City, Iowa (commissioned by Freedom Fuels, Inc) and in Burnsville, Mississippi (commissioned by Three Rivers Bio-Fuels), will produce some 30 million gallons of bio-diesel per year – all from soybean oil. The ethanol plant will produce 56 million gallons of the fuel additive per year – all from corn grown within 100 miles of the plant.
Tony Damon, SSOE CEO said, "SSOE's experience in designing refineries dates back to the 70's and the firm has worked with major oil and gas clients including Shell, Sunoco and Marathon."
But traditional oil refineries differ greatly from ethanol and bio diesel plants. "First there is the question of the environmental impact – the byproducts of ethanol are soap and water. An ethanol spill results in complete evaporation – unlike an oil spill – and it is not flammable, reducing the risk of explosion. The same goes for biodiesel; the byproducts are glycerin and soap stock. Where some local communities and civic leaders may oppose an oil refinery, we have seen great receptivity to these plants," said SSOE Senior Project Manager Mark Hoffman.
A Growing Need
Ethanol, made from corn, replaces the environmentally-unfriendly MTBE additive in gas. Several major oil companies are already lining up to purchase some of the 56 million gallons of ethanol this SSOE plant will produce annually. Many states have already passed laws requiring the switch from MTBE to ethanol. Biodiesel is to diesel fuel what ethanol is to gas – an additive that lowers sulfur emissions. Total annual production of biodiesel will top out at 200 million gallons this year. It is projected to hit 1 billion gallons by 2010. The predominant use for biodiesel in the U.S. is the trucking/transportation industry – as 79% of the diesel use in the US is trucks and some states now mandate a 2% biodiesel mixture to lower these sulfur emissions (Iowa and Minn.) By comparison, Europe demands a 5% biodiesel mixture, and there are more diesel automobiles there than in the US.
With a recent Gold Certification for its work on the new Honda plant in Raymond Ohio, SSOE's breadth and scope of experience in "green architecture" inform its unique approach when designing and building plants and refineries. "For SSOE, the future is today and these plants are proof that we reduce our dependence on foreign fuel and find alternative solutions that work for every American," Damon continued.
About SSOE Group
As a Top 10 Engineering / Architecture firm for the past 5 years, SSOE Group focuses on delivering Great Client Service to clients through a full range of project delivery solutions. They have been named a "Great Workplace" (Great Place to Work®) and one of the "Best AEC Firms to Work For" (Building Design + Construction).
With more than 20 offices around the world, SSOE is known for making its clients successful by saving them time, trouble, and money. Over the company's 65+ year history, it has earned a reputation for providing quality project solutions to semiconductor, automotive, food, chemical, glass, manufacturing, healthcare, power, and general building industries—with projects completed in 40 countries. Visit www.ssoe.com for additional information and career opportunities.
Media Contact:
Jenni Roder
(419) 469-1918
(419) 351-6480 cell
jroder@ssoe.com
You can follow any responses to this entry through the RSS feed. Responses are currently closed, but you can trackback from your own site.