New St. Paul, Minnesota Office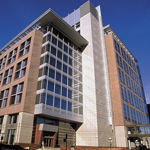 Government officials and city business leaders help SSOE celebrate office opening in St. Paul, Minnesota

Today Councilman David Thune and St. Paul Chamber of Commerce Chairman, Dan Foote, helped SSOE, Inc. celebrate the opening of their new office in downtown St. Paul at an open house commemorating this event. Already this office has brought nearly 20 high-skilled engineering jobs to the area, and with the recent award of several high-profile projects, SSOE will be seeking to add several additional positions in the coming months.
The open house was held in SSOE's new office in the Securian building in downtown St. Paul. It was attended by nearly 100 business men and women throughout the St. Paul region including representatives from 3M, Securian, the St. Paul Chamber of Commerce, St. Paul City Council, Novartis, Cleveland-Cliffs Mining, NewMech Construction, and Siemens Building Technologies.
SSOE's St. Paul office has been awarded several projects of note. The largest is a greenfield biodiesel plant for Freedom Fuels. This plant, located in Mason City, Iowa, will produce a clean burning diesel fuel additive from soybeans that can be used in any diesel burning engine. SSOE also designed an addition to the St. Paul Chamber of Commerce as well as a substantial addition to their own St. Paul office. On-going engineering support is also being provided to Northshore Mining and Novartis Medical Nutrition. Also under pursuit are a number of other high profile clients in the area.
Managing SSOE's St. Paul office is David Smith, P.E. In describing his plans for the new office, David states, "SSOE has an active track record of meaningful community involvement and we expect to continue that legacy in St. Paul. SSOE's new office will shine a spotlight on St. Paul with both the regional and international clients SSOE is currently serving."
For SSOE the opening of the St. Paul office coincides with other growth taking place in the past year including new offices in China and Washington, DC. In addition, overall staff levels have grown by over 30% in the past year contributed by the increased workload from repeat clients and a growing new client base. When asked to comment on recent growth, SSOE CEO Tony Damon stated, "It's an exciting time to be a part of SSOE. We are growing by leaps and bounds thanks to a strategic growth plan, a focus on customer service, and a top-notch client base. We don't see an end to our recent growth any time soon, and the St. Paul office is a big reason for that."
About SSOE Group
As a Top 10 Engineering / Architecture firm for the past 5 years, SSOE Group focuses on delivering Great Client Service to clients through a full range of project delivery solutions. They have been named a "Great Workplace" (Great Place to Work®) and one of the "Best AEC Firms to Work For" (Building Design + Construction).
With more than 20 offices around the world, SSOE is known for making its clients successful by saving them time, trouble, and money. Over the company's 65+ year history, it has earned a reputation for providing quality project solutions to semiconductor, automotive, food, chemical, glass, manufacturing, healthcare, power, and general building industries—with projects completed in 40 countries. Visit www.ssoe.com for additional information and career opportunities.
Media Contact:
Jenni Roder
(419) 469-1918
(419) 351-6480 cell
jroder@ssoe.com
You can follow any responses to this entry through the RSS feed. Responses are currently closed, but you can trackback from your own site.