Professional Staff Additions from former AVCA Corp.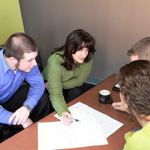 September 4, 2004 – SSOE, Inc. a leading full service architectural and engineering firm, announced an expansion of their Industrial Process team with the recent addition of over 50 former employees of AVCA, a consulting engineering firm located in Maumee, Ohio. The former AVCA employees will be relocating to SSOE's headquarters in downtown Toledo, Ohio.
Dean Diver, the former President of AVCA, will also join the SSOE team serving as a division manager.
Tony Damon, SSOE's President and CEO stated this move is consistent with the company's growth strategy by adding talented employees with strong client relationships. Combining AVCA's professionals and expertise with our own, further strengthens SSOE's leadership position in providing consulting services to the chemical, petroleum, pipeline, food and glass markets, he stated. This move will allow us access to new clients and better serve our existing clients.
Dean Diver, stated that this was a win-win situation. SSOE is able to bring onboard a wealth of expertise and talented professionals giving them an even broader reach.
According to Diver, AVCA has done work for several Fortune 100 companies, including Owens Corning and Procter & Gamble. He also stated that SSOE and AVCA have worked together on several projects over the years and is familiar with each other's strengths and operations.
This move by SSOE will build on the firm's strengths in serving as a global provider of consulting services and bring their professional staff level to over 350 at their headquarters location in Toledo, Ohio.
About SSOE Group
As a Top 10 Engineering / Architecture firm for the past 5 years, SSOE Group focuses on delivering Great Client Service to clients through a full range of project delivery solutions. They have been named a "Great Workplace" (Great Place to Work®) and one of the "Best AEC Firms to Work For" (Building Design + Construction).
With more than 20 offices around the world, SSOE is known for making its clients successful by saving them time, trouble, and money. Over the company's 65+ year history, it has earned a reputation for providing quality project solutions to semiconductor, automotive, food, chemical, glass, manufacturing, healthcare, power, and general building industries—with projects completed in 40 countries. Visit www.ssoe.com for additional information and career opportunities.
Media Contact:
Jenni Roder
(419) 469-1918
(419) 351-6480 cell
jroder@ssoe.com
You can follow any responses to this entry through the RSS feed. Responses are currently closed, but you can trackback from your own site.