Santé of Mesa Transitional Rehabilitation Center Fills Void in Healthcare Continuum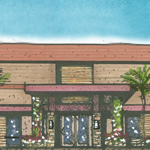 PHOENIX, Arizona, January 11, 2010 – An internet bistro, healing garden, and 3,600 square foot rehabilitation gym, are just a few of the amenities offered at the new Santé of Mesa, Arizona Transitional Rehabilitation Center (TRC). The center, developed by Santé Partners Inc. and designed by SSOE Group, a global architecture, engineering, and program management firm, gives patients the opportunity for rehabilitation services in a non-institutional environment. As experienced healthcare consultants, SSOE creates facilities that are optimally designed for patient healing.
The 70 unit 48,000 square foot Santé of Mesa rehabilitation center accommodates private and companion suites with kitchenettes, flat screen TV's, wireless internet access, and is aligned with current healthcare trends towards non-institutional environments. "The Santé of Mesa TRC design is more hospitality oriented than institutional," said Arnaud Longeau, LEED AP and SSOE's project manager for the center.
In addition, the facility has several sustainable features including passive shading, use of native plants in landscape, energy star appliances, and energy saving insulation. "We are turning away from nursing home environments toward facilities that help a patient feel like he or she is in a more healing environment as a patient and not a resident," Longeau said. "Institutional-style meals will be replaced by restaurant-style dining. Patients, as well as their families, have access to the internet bistro which leads out to a healing garden and water feature."
Construction is expected to be completed by October, 2010. It will be owned and operated by Santé Partners and CopperSands, Inc.
Additional Santé Partners' TRC projects are being developed throughout Arizona in communities like Chandler, Surprise, and North Scottsdale. Like the Santé of Mesa project, these TRC's will predominantly serve seniors requiring structured rehabilitation services after they have been discharged from the hospital.
Scott Mickeleit, Vice President of Santé Partners, Inc. said Santé Partners are committed, along with local operating and management partners, to fill a void in the healthcare continuum based on patient / consumer demand. "The projects will provide a cost benefit to the healthcare system by allowing centers to discharge patients to a lower-cost but high-quality environment, while minimizing center readmissions," said Mickeleit.
About SSOE Group
As a Top 10 Engineering / Architecture firm for the past 5 years, SSOE Group focuses on delivering Great Client Service to clients through a full range of project delivery solutions. They have been named a "Great Workplace" (Great Place to Work®) and one of the "Best AEC Firms to Work For" (Building Design + Construction).
With more than 20 offices around the world, SSOE is known for making its clients successful by saving them time, trouble, and money. Over the company's 65+ year history, it has earned a reputation for providing quality project solutions to semiconductor, automotive, food, chemical, glass, manufacturing, healthcare, power, and general building industries—with projects completed in 40 countries. Visit www.ssoe.com for additional information and career opportunities.
Media Contact:
Jenni Roder
(419) 469-1918
(419) 351-6480 cell
jroder@ssoe.com
You can follow any responses to this entry through the RSS feed. Responses are currently closed, but you can trackback from your own site.