SSOE and General Motors Celebrate 2,000,000 Safety Man-hours in Shanghai
Another safety milestone achieved during construction of GM China's Advanced Technical Center, Phase 2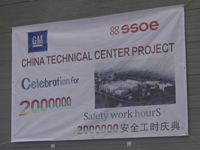 Shanghai, China, October 23, 2012 – SSOE Group (www.ssoe.com), a global engineering, procurement, and construction management (EPCM) firm, along with General Motors (GM), celebrated another significant safety milestone recently. Two million hours have been worked with no recordable incidents during Phase 2 of construction of GM's first Chinese automotive research and development (R&D) facility, otherwise known as GM China's Advanced Technical Center. The new facility, currently being constructed in Shanghai, celebrated two prior safety milestones of 500,000 hours worked without a recordable accident back in September 2011 and 1,000,000 hours worked without a recordable accident just five months ago in April 2012.
SSOE and GM were both represented during the celebration. General Motors' Michael Mayra, project manager on this project, noted during the ceremony, "This is a very special day for this project. I am personally very proud of this project and of you for achieving this world class result. I know it has taken a lot of hard work by everyone involved. I would like to thank you — the workers, all contractor management, SSOE engineers, and the safety supervisors. Because of all of you, we have worked 2 million hours without a lost time or recordable injury."
The facility sits on a 16.3 acre campus and work performed there will focus on advanced design, vehicle engineering, advanced powertrain development, urban mobility and manufacturing processes, and testing. Upon completion, the nearly 355,000 SF Advanced Technical Center will consist of 62 testing labs and 9 research labs. SSOE's services include programming, conceptual design, master planning, detail design, contractor procurement, and construction management. SSOE and GM are anticipating completion of Phase 2 construction by year end.
About SSOE Group
As a Top 10 Engineering / Architecture firm for the past 5 years, SSOE Group focuses on delivering Great Client Service to clients through a full range of project delivery solutions. They have been named a "Great Workplace" (Great Place to Work®) and one of the "Best AEC Firms to Work For" (Building Design + Construction).
With more than 20 offices around the world, SSOE is known for making its clients successful by saving them time, trouble, and money. Over the company's 65+ year history, it has earned a reputation for providing quality project solutions to semiconductor, automotive, food, chemical, glass, manufacturing, healthcare, power, and general building industries—with projects completed in 40 countries. Visit www.ssoe.com for additional information and career opportunities.
Media Contact:
Jenni Roder
(419) 469-1918
(419) 351-6480 cell
jroder@ssoe.com
You can follow any responses to this entry through the RSS feed. Both comments and pings are currently closed.
Tagged automotive-feature, construction-feature, engineering-feature, general-manufacturing-feature