SSOE Announces Four New Managers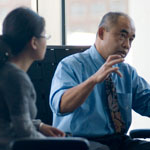 TOLEDO, OH, November 13, 2008 – SSOE, one of the nation's largest architecture and engineering firms, announced that they have promoted four new managers as the start of the 2009 planning year has begun.
Doug Berner, PE, Senior Project Manager and Senior Associate, Industrial Processes, Toledo, Ohio and Ron Guiliani, PE, PMP, Senior Project Manager and Senior Associate, Automotive and Industrial Facilities, Toledo, Ohio have both been promoted to Division Managers of their departments. As division managers they are responsible for the financial success of their division and support the overall goals of their business unit. They are involved with client maintenance and with preparing and implementing a marketing plan for their department. They also establish the priority of work and solve scheduling problems, as well as monitor project milestones and post- project evaluations.
Dale Feldhaus, Senior Controls Engineer and Senior Associate, Industrial Processes, Toledo, Ohio and Chris Vogelpohl, AIA, NCARB, Project Manager and Senior Associate, Healthcare, Toledo, Ohio have both been named Department Managers. As a department manager, they will direct and supervise section managers and department staff. This includes all evaluation and employee relations responsibilities as well as ensuring technical competency and quality of work performed by staff. They are also intricately involved with implementing department standards and establishing and monitoring the planning year budgets of their departments.
"We have created an environment at SSOE of opportunity and success by allowing each individual to plan and develop their own future within the firm. We continue, even in this weakened economy, to contribute in our people, who are the driving forces furthering our position as one of the most formidable architecture, engineering and design firms in the world." said Tony Damon, AIA, SSOE Inc. CEO.
About SSOE Group
As a Top 10 Engineering / Architecture firm for the past 5 years, SSOE Group focuses on delivering Great Client Service to clients through a full range of project delivery solutions. They have been named a "Great Workplace" (Great Place to Work®) and one of the "Best AEC Firms to Work For" (Building Design + Construction).
With more than 20 offices around the world, SSOE is known for making its clients successful by saving them time, trouble, and money. Over the company's 65+ year history, it has earned a reputation for providing quality project solutions to semiconductor, automotive, food, chemical, glass, manufacturing, healthcare, power, and general building industries—with projects completed in 40 countries. Visit www.ssoe.com for additional information and career opportunities.
Media Contact:
Jenni Roder
(419) 469-1918
(419) 351-6480 cell
jroder@ssoe.com
You can follow any responses to this entry through the RSS feed. Responses are currently closed, but you can trackback from your own site.