SSOE Celebrates 3,000,000 Work Hours with No Recordable Injuries
9 Million Hours since Last Lost Time Injury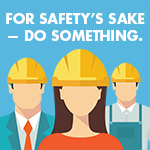 TOLEDO, Ohio, May 9, 2017 – SSOE Group (www.ssoe.com), a global project delivery firm for architecture, engineering, and construction management, is excited to announce the achievement of a significant safety milestone, three million hours worked with no recordable incidents as of March 30, 2017. A recordable injury is an injury that results in any of the following: death, days away from work, restricted work or transferred to another job, medical treatment beyond first aid, or a loss of consciousness.
"I would like to personally thank each of our employees for their commitment to safety that has resulted in over three million work hours without a recordable injury and over 9 million hours without a lost time injury," says Scott Goodwin, Corporate Safety Manager at SSOE. "SSOE believes that our vision of a "safety-always" culture offers our employees, contractors, and clients an opportunity to prevent an incident from occurring thus preventing injuries to our most valuable asset, our people! Our safety mantra is "For Safety's Sake, Do Something" and that means each of us have the ability to prevent an accident and the responsibility to speak up for others to ensure that at the end of the day we all go home to our loved ones!"
Central to SSOE's organizational culture is their commitment to the health and safety of employees. So much so, they have a corporate goal to achieve zero recordable injuries each year. With more than 20 offices around the world and over 1,000 employees, it is essential to have fully funded initiatives and programs to ensure proper training takes place. Programs offered include: new hire safety training and orientation, continuous training to increase safety knowledge and maintain focus, shared incident reports and near misses to raise safety awareness, weekly safety tips that provide corporate-wide meeting topics, quarterly safety meetings with guest speakers, OSHA training for all technical employees, safety and construction blog, and additional client and project specific safety training as required.
About SSOE Group
As a Top 10 Engineering / Architecture firm for the past 5 years, SSOE Group focuses on delivering Great Client Service to clients through a full range of project delivery solutions. They have been named a "Great Workplace" (Great Place to Work®) and one of the "Best AEC Firms to Work For" (Building Design + Construction).
With more than 20 offices around the world, SSOE is known for making its clients successful by saving them time, trouble, and money. Over the company's 65+ year history, it has earned a reputation for providing quality project solutions to semiconductor, automotive, food, chemical, glass, manufacturing, healthcare, power, and general building industries—with projects completed in 40 countries. Visit www.ssoe.com for additional information and career opportunities.
Media Contact:
Jenni Roder
(419) 469-1918
(419) 351-6480 cell
jroder@ssoe.com
You can follow any responses to this entry through the RSS feed. Both comments and pings are currently closed.
Tagged construction, no injuries, safety, safety-always culture