SSOE Group Announces Employee Registrations and Certifications for First Quarter of Planning Year 2013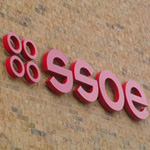 TOLEDO, Ohio, January 22, 2013 – SSOE Group (www.ssoe.com), a global engineering, procurement, and construction management (EPCM) firm, announced today that five employees earned professional registrations and four employees earned certifications during the first quarter of their 2013 planning year. Attainment of professional licensure is strongly encouraged at SSOE. In fact, the company covers the expense of preparation classes and exam fees as well as providing paid time off to take the exam. As an additional incentive, once a staff member has passed an exam, they receive a recognition bonus.
Justin Michalski, PE; Angela Moffit, PE; Joel Newkirk, PE; Omar Ehab, PE; and Stancho Stanchev, PE recently received their professional engineering licenses. All five individuals successfully completed the Principles and Practice of Engineering (PE) exam that measures a candidate's academic and practical knowledge of technical engineering. Candidates are eligible to take the exam after meeting statutory requirements including a minimum of four years of acceptable work experience.
Justin Michalski is a graduate of the University of Toledo with a bachelor's degree in electrical engineering. He has five years of experience and works in SSOE's Toledo, Ohio office.
Angela Moffit, based in SSOE's Columbus office, is also a graduate of the University of Toledo with a degree in Civil Engineering and five years of experience.
Joel Newkirk received a bachelor's degree in computer science from Bowling Green State University. He is a mechanical engineer with 11 years of experience and is based in SSOE's Cincinnati, Ohio office.
Omar Ehab is a mechanical engineer in SSOE's Santa Clara, California office. He received a bachelor's degree from the Al Balqa' Applied University in Amman, Jordan and has five years of experience.
Stancho Stanchev holds a master's degree in structural engineering from the University of Architecture, Construction, and Geodesy in Sofia, Bulgaria. Currently, he is a structural engineer in SSOE's Toledo, Ohio office with 16 years of experience.
James Bond, PE, LEED AP BD+C, CEM recently earned his certification as a Certified Energy Manager (CEM). This certification, awarded by the Association of Energy Engineers, recognizes individuals who have demonstrated high levels of experience, competence, proficiency, and ethical fitness in the energy management profession. Bond is a mechanical engineer and associate with 16 years of experience and is based in SSOE's Huntsville, Alabama office.
Mark D. Wilson, PE, CMQ/OE, earned his certification as a Certified Manager of Quality / Organizational Excellence. Awarded by the American Society for Quality (ASQ), this certification signifies an individual's commitment to quality through leading and championing process-improvement initiatives. To obtain the certification, an individual must possess at least 10 years of on-the-job experience in the field and pass a written examination to measure comprehension of the ASQ body of knowledge. Wilson received a Bachelor of Science in Mechanical Engineering from the University of Illinois at Urbana-Champaign and currently serves a division manager in SSOE's Portland, Oregon office.
Kellie Wagner, CDT, recently earned her certification as a Construction Documents Technologist (CDT). This certification, awarded by The Construction Specifications Institute (CSI), denotes that the individual possesses the knowledge and understanding of construction documents and the project lifecycle. Wagner is a project controller with three years of experience. She is based in SSOE's Nashville, Tennessee office.
Jennifer Wuertz, SPHR, GPHR earned her certification as a Global Professional in Human Resources (GPHR). This certification designates an individual's understanding of global and local HR policies and program strategies as well as the ability to establish HR policies and initiatives that support an organization's global growth. Wuertz is a human resource business leader and senior associate in SSOE's Toledo, Ohio office with 21 years of experience.
About SSOE Group
As a Top 10 Engineering / Architecture firm for the past 5 years, SSOE Group focuses on delivering Great Client Service to clients through a full range of project delivery solutions. They have been named a "Great Workplace" (Great Place to Work®) and one of the "Best AEC Firms to Work For" (Building Design + Construction).
With more than 20 offices around the world, SSOE is known for making its clients successful by saving them time, trouble, and money. Over the company's 65+ year history, it has earned a reputation for providing quality project solutions to semiconductor, automotive, food, chemical, glass, manufacturing, healthcare, power, and general building industries—with projects completed in 40 countries. Visit www.ssoe.com for additional information and career opportunities.
Media Contact:
Jenni Roder
(419) 469-1918
(419) 351-6480 cell
jroder@ssoe.com
You can follow any responses to this entry through the RSS feed. Both comments and pings are currently closed.