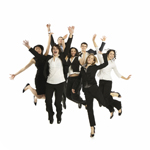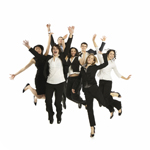 TOLEDO, Ohio, April 16, 2013 – SSOE Group (www.ssoe.com), a global engineering, procurement, and construction management (EPCM) firm, announced today that three employees earned professional registrations and one employee earned professional certification during the second quarter of their 2013 planning year. Attainment of professional licensure is strongly encouraged at SSOE. In fact, the company covers the expense of preparation classes and exam fees as well as providing paid time off to take the exam. As an additional incentive, once a staff member has passed an exam, they receive a recognition bonus.
Jennifer Breault, RA, NCARB, LEED AP BD+C recently earned her architectural license. To obtain this license, Breault had to pass the Architect Registration Exam, have a professional degree from an NAAB-accredited program, and complete the Intern Development Program (IDP). The IDP is approximately 3 years of on the job experience consisting of training units in 16 different categories. The Architect Registration Exam evaluates candidate's knowledge, skills, and ability to provide the various services required in the practice of architecture. Breault is a graduate of Lawrence Technological University with a master's degree in architecture. She is an Architect located in SSOE's Toledo, Ohio office and has 13 years of experience. In addition, Breault is currently participating in SSOE's rotation program—a five year advanced training course which provides the opportunity to explore different offices and SSOE business units for many types of projects.
Jacob Ott, PE, LEED AP BD+C, and Ryan Prater, PE, recently received their professional engineering licenses. Both individuals successfully completed the Principles and Practice of Engineering (PE) exam that measures a candidate's academic and practical knowledge of technical engineering. Candidates are eligible to take the exam after meeting statutory requirements including a minimum of four years of acceptable work experience. Ott is a graduate of the University of Toledo with a bachelor's degree in mechanical engineering. He has eight years of experience and works in SSOE's Nashville, Tennessee office. Prater, based in SSOE's Cincinnati, Ohio office, is a graduate of the University of Cincinnati with a bachelor's degree in electrical engineering. He has seven years of experience.
Loredana Lupu, PHR, earned her certification as a Professional in Human Resources in the second quarter of SSOE's planning year. This certification, awarded by the HR Certification Institute (HRCI), signifies that the individual possesses theoretical knowledge and practical experience in human resources. Lupu joined SSOE as part of the Evergreen EDC merger and now serves as a Human Resources Assistant for SSOE's Portland, Oregon office.
https://www.ssoe.com/wp-content/uploads/2013/04/150x150_SSOE_employee-registrations-and-certifications-for-second-quarter-of-planning-year-2013.png
150
150
hitch
https://www.ssoe.com/wp-content/uploads/2018/05/logo_ssoe.png
hitch
2013-04-16 10:25:30
2018-07-11 17:08:26
SSOE Group Announces Employee Registrations and Certifications for Second Quarter of Planning Year 2013