SSOE Group Announces the 2012 Founder's Award Recipients
Jennifer Hrosko and Lance Mushung Honored for Efforts on Miamisburg Schools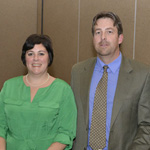 TOLEDO, Ohio, January 3, 2013 – SSOE Group (www.ssoe.com), a global engineering, procurement, and construction management (EPCM) firm, is proud to announce the selection of two employees as recipients of their 2012 Founder's Award. Initiated in 2008, the Founder's Award recognizes, rewards, and reinforces exemplary execution of SSOE's core principles—innovation through quality improvements and value-added solutions, differentiation that delivers great client service, and diversification through entrepreneurism.
Jennifer Hrosko, IIDA, Senior Interior Designer, and Lance Mushung, AIA, NCARB, Architect, Senior Associate were honored for their exemplary performance on Miamisburg Local School's $79 million district-wide rebuild project. The project included renovations to several elementary schools and the high school, as well as construction of a new middle and elementary school. Their innovative approach and program management resulted in a very successful building program and nearly $11 million in documented savings.
The first and most pressing challenge facing this project was the need to design and bid a preschool in less than 4 weeks so that it could be constructed on the site within 6 months. If the project was not completed within the specified time frame the district risked losing the site. Mushung ensured the district met this incredible deadline, and saved the district $1 to 2 million, roughly the cost to purchase a replacement site.
A major factor in achieving cost savings for the district was the innovative use of construction materials. The use of precast concrete panels in lieu of traditional steel joist/metal deck for floors (with concrete) and roofs resulted in an estimated $6-8 million savings for the client.
The programming effort led by Jennifer Hrosko was another significant factor in controlling costs for the project. Hrosko developed district standards that were used to create commonality, control sizes, infrastructure, and quantities of items being installed in classrooms.
Lance's role in both management and execution of this project, as well as Jennifer's contribution to the programming effort, were both critical in delivering these savings to the client.
Awards were presented at SSOE's December Shareholder's Meeting where each honoree received a SSOE Founder's Award trophy and a monetary award for their extraordinary accomplishments.
About SSOE Group
As a Top 10 Engineering / Architecture firm for the past 5 years, SSOE Group focuses on delivering Great Client Service to clients through a full range of project delivery solutions. They have been named a "Great Workplace" (Great Place to Work®) and one of the "Best AEC Firms to Work For" (Building Design + Construction).
With more than 20 offices around the world, SSOE is known for making its clients successful by saving them time, trouble, and money. Over the company's 65+ year history, it has earned a reputation for providing quality project solutions to semiconductor, automotive, food, chemical, glass, manufacturing, healthcare, power, and general building industries—with projects completed in 40 countries. Visit www.ssoe.com for additional information and career opportunities.
Media Contact:
Jenni Roder
(419) 469-1918
(419) 351-6480 cell
jroder@ssoe.com
You can follow any responses to this entry through the RSS feed. Both comments and pings are currently closed.
Tagged Design Feature, education-feature, interior-design-feature