SSOE Group Celebrates Expanded Mumbai Office in Diwali Pooja Ceremony
Clients and Employees Take Part and Reflect on Growth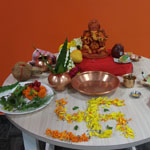 Mumbai, India, November 30, 2012 – SSOE Group (www.ssoe.com), a global engineering, procurement, and construction management (EPCM) firm announced today that it has relocated and expanded its Mumbai, India office. The new office accommodates SSOE's increased presence in the Mumbai area and allows room for additional growth.
In line with traditional Indian customs, a Pooja ceremony was held yesterday during the annual Diwali festivals to bless the office and bring success and good fortune to the space. Clients and employees in the Mumbai area were invited to visit the space during the open house and took part in the Pooja ceremony.
Niki Shah, Operations Manager in Mumbai commented "We are extremely excited to be in our new location. This new space is needed due to the tremendous growth of staff in our Mumbai office and SSOE's involvement with projects in the surrounding areas. This has created several new positions in the Mumbai office. In fact, we are already planning to fill some of our additional capacity within the new building due to forecasted growth within the year". The new office is located at #971 Solitaire Corporate Park, Building No. 9, 7th Floor, Andheri Ghatkopar Link Road, Chakala, Andheri (East) Mumbai.
SSOE acquired d-Tech in January 2012 and has grown the office to approximately 40 employees in the Mumbai area, primarily focused on delivering high quality EPCM services to clients in the automotive, food, and consumer products industries.
About SSOE Group
As a Top 10 Engineering / Architecture firm for the past 5 years, SSOE Group focuses on delivering Great Client Service to clients through a full range of project delivery solutions. They have been named a "Great Workplace" (Great Place to Work®) and one of the "Best AEC Firms to Work For" (Building Design + Construction).
With more than 20 offices around the world, SSOE is known for making its clients successful by saving them time, trouble, and money. Over the company's 65+ year history, it has earned a reputation for providing quality project solutions to semiconductor, automotive, food, chemical, glass, manufacturing, healthcare, power, and general building industries—with projects completed in 40 countries. Visit www.ssoe.com for additional information and career opportunities.
Media Contact:
Jenni Roder
(419) 469-1918
(419) 351-6480 cell
jroder@ssoe.com
You can follow any responses to this entry through the RSS feed. Both comments and pings are currently closed.