SSOE Group Design Technology Expert Selected to Attend Autodesk's Revit Gunslinger Event in Waltham, Massachusetts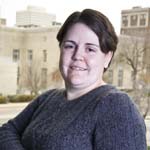 Waltham, MA, November 6, 2013 – SSOE Group (www.ssoe.com), a global engineering, procurement, and construction management (EPCM) firm, is proud to announce that BIM/CAD Technical Specialist, Victoria (Torrie) Prescott, LEED AP BD+C, has been selected to attend and participate in the invitation-only 2013 Autodesk Gunslinger Event for Revit testing November 12-15th at the Autodesk headquarters in Waltham, MA.
The Gunslinger event solicits applications from Autodesk power users in the AEC industry and ultimately selects only 16 users for each of its two sessions to participate. The three day event is geared toward testing alpha or beta-versions of new software features and functionality of the newest release of Autodesk software. Selected participants will engage in testing new features and workflows with software developers as well as participate in round table discussions with developers, production teams, and Autodesk management.
The 2013 event will be Torrie's second Gunslinger event, first applying and receiving acceptance to participate in the 2011 event. Torrie is an advanced user of Autodesk software, particularly Revit, and has extensive experience coordinating projects with multiple technical disciplines in her current role at SSOE. Over the last four years she has been an active participant in alpha and beta Revit software testing. Torrie received her bachelor's degree in architectural design from the University of Illinois and has been with SSOE since 2007 and currently works in their Raleigh-Durham, North Carolina office.
Bill Case, Director of Computer& Information Systems for SSOE congratulates Torrie on her selection to participate in the Gunslinger event, "SSOE is always looking to push the limit with current technology – creating new workflows and coming up with ideas for increased functionality to support our various business needs. The Gunslinger event is a great way for our experiences and practices to be heard and learned from and also a forum to share unique ways we've taken technology to the next level in order to improve the next version of platforms. Torrie's presence ensures our clients' voices are heard in upcoming software releases to optimize the deliverables to their needs. It's a commendable achievement that Torrie has been selected to participate in such a prestigious event."
About SSOE Group
As a Top 10 Engineering / Architecture firm for the past 5 years, SSOE Group focuses on delivering Great Client Service to clients through a full range of project delivery solutions. They have been named a "Great Workplace" (Great Place to Work®) and one of the "Best AEC Firms to Work For" (Building Design + Construction).
With more than 20 offices around the world, SSOE is known for making its clients successful by saving them time, trouble, and money. Over the company's 65+ year history, it has earned a reputation for providing quality project solutions to semiconductor, automotive, food, chemical, glass, manufacturing, healthcare, power, and general building industries—with projects completed in 40 countries. Visit www.ssoe.com for additional information and career opportunities.
Media Contact:
Jenni Roder
(419) 469-1918
(419) 351-6480 cell
jroder@ssoe.com
You can follow any responses to this entry through the RSS feed. Both comments and pings are currently closed.