SSOE Group Expands with Third Office in China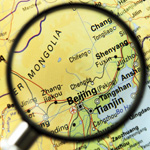 Shanghai, China, May 03, 2011 – SSOE Group (www.ssoe.com), a global engineering, procurement and construction management (EPCM) firm, has opened an office in Tianjin, China – their third in China – to enhance its presence within the Asia-Pacific region. The new office expands the firm's North China operations and will further augment SSOE's services for clients in one of the world's fastest growing economies.
In 2005, SSOE opened its first China office in Shanghai and in 2009, a second in Beijing. Both offices were opened to support a variety of manufacturing plant-development projects for Multi-National Corporations in and around China. Currently, the company's Shanghai office is the second largest office globally. The Tianjin office will be staffed with localized operations and business development professionals. SSOE's overall growth in China is largely due to its Western client base continuing to build manufacturing and R&D facilities to meet the demand for consumerism generated by China's expanding middle class. Some notable clients include: Caterpillar, Coca Cola, Dana Corporation, Ford, General Motors, Goodyear, Johnson & Johnson, HJ Heinz, Evonik, Parker Hannifin, and others.
"The opening of our Tianjin office is a reflection of the acceleration in economic activity now sweeping the Northeast China region," comments Robert Benedetti, Asian Operations Business Director. "Our distributed presence here recognizes that new and existing clients benefit from our local, partnership-driven support that complements our global services."
Andrew Kwok, General Manager of Asian Operations / Principal elaborated "Asia-Pacific is the fastest growth market in the world, and represents significant opportunities for SSOE to drive new business that will support this expansion. As China, India, and other Asian economies continue to open their doors to the rest of the world, Asia's influence on global trade will increase and drive demand for robust EPCM construction project-delivery solutions. We're delighted to see our business growing here."
With over 23 offices, SSOE provides services to clients in more than 30 countries across North America, South America, the Asia-Pacific region, and Europe with its reach extending to many more. SSOE plans to further expand in the Asia-Pacific region within the next 12 months – most immediately in Mumbai, India and South East Asia.
The SSOE Tianjin office is located at:
SSOE Group
Room 801 of Global Center
No. 309 Nanjing Road
Tianjin, China
Call Rob Benedetti for more information @ 86.135.0172.9886.
About SSOE Group
As a Top 10 Engineering / Architecture firm for the past 5 years, SSOE Group focuses on delivering Great Client Service to clients through a full range of project delivery solutions. They have been named a "Great Workplace" (Great Place to Work®) and one of the "Best AEC Firms to Work For" (Building Design + Construction).
With more than 20 offices around the world, SSOE is known for making its clients successful by saving them time, trouble, and money. Over the company's 65+ year history, it has earned a reputation for providing quality project solutions to semiconductor, automotive, food, chemical, glass, manufacturing, healthcare, power, and general building industries—with projects completed in 40 countries. Visit www.ssoe.com for additional information and career opportunities.
Media Contact:
Jenni Roder
(419) 469-1918
(419) 351-6480 cell
jroder@ssoe.com
You can follow any responses to this entry through the RSS feed. Responses are currently closed, but you can trackback from your own site.
Tagged chemical-feature, china-feature