SSOE Group is Sad to Announce the Loss of a Dear Member of the SSOE Community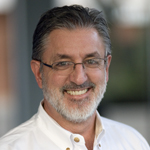 February 3, 2010—SSOE Group is sad to announce the loss of a dear member of the SSOE community. David Rose, a former principal and vice-president at SSOE, passed away this morning in his home. He was 55 years old.
David began his career with SSOE in 2001 after an already distinguished career of more than 20 years in the field of architecture. He received his Bachelor's Degree in Architecture from the University of Kansas in 1976 and his Master's of Architecture from The University of Michigan in 1978 where he ranked first in his class academically. He gained the distinction of becoming a registered architect in 1983. Prior to coming to SSOE, David's significant experience included careers with both Rossetti Architects and Luckenbach/Ziegelman & Partners, Inc. in Birmingham, Michigan, in a variety of leadership and architectural roles.
While at SSOE, David headed SSOE's healthcare division as operations manager, and also acted as senior project manager for many notable institutional and healthcare projects for distinguished clients. David also demonstrated a passion for sustainable design, chairing SSOE's Sustainable Design Committee from its inception and attaining LEED accreditation long before it was popular. David was a member of the American Institute of Architects, Society of College and University Planners, and the United States Green Building Council.
His colleagues remember him as a tremendous talent, an innovative and forward thinker, and most importantly as a caring and dedicated friend. His loss will be deeply felt by the entire SSOE family. His fellow partner, Lee Warnick, recalls, "His demeanor was quiet, calm and insightful, and a joy to work with. He continually surprised me with his wisdom and ability to patiently discuss our daily challenges. And it was understandable that he faced his greatest final challenge with strength and dignity."
David is survived by his wife, Terri and his daughter, Lauren along with many other loved ones and friends. Our thoughts and condolences are with them all during this difficult time.
For those who wish to pay their respects, arrangements are below.
Share memories at www.pricefuneralhome.net
Visitation
Friday, February 5th, 3:00-8:00 pm
Price Funeral Home
3725 Rochester Road, (between Big Beaver and Wattles Roads)
Troy, MI 48083
(248) 689-0700
Funeral
Saturday, February 6th, 10:00 am
Price Funeral Home
3725 Rochester Road, (between Big Beaver and Wattles Roads)
Troy, MI 48083
(248) 689-0700
About SSOE Group
As a Top 10 Engineering / Architecture firm for the past 5 years, SSOE Group focuses on delivering Great Client Service to clients through a full range of project delivery solutions. They have been named a "Great Workplace" (Great Place to Work®) and one of the "Best AEC Firms to Work For" (Building Design + Construction).
With more than 20 offices around the world, SSOE is known for making its clients successful by saving them time, trouble, and money. Over the company's 65+ year history, it has earned a reputation for providing quality project solutions to semiconductor, automotive, food, chemical, glass, manufacturing, healthcare, power, and general building industries—with projects completed in 40 countries. Visit www.ssoe.com for additional information and career opportunities.
Media Contact:
Jenni Roder
(419) 469-1918
(419) 351-6480 cell
jroder@ssoe.com
You can follow any responses to this entry through the RSS feed. Responses are currently closed, but you can trackback from your own site.