SSOE Group Launches New Blog Focused on Safety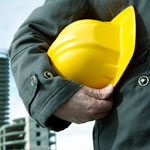 TOLEDO, OH, April 20, 2012 – SSOE Group, an international engineering, procurement, and construction management (EPCM) firm, announced today the launch of a new blog focused on safety and construction. This blog was launched to promote a culture of safety at SSOE and act as a resource for our clients. It provides timely tips on safety measures. Future entries will address a wide range of topics including safety tips for the construction site, the office, as well as at home.
SSOE's safety manager, Tony Geise explained, "at SSOE we believe that safety is not something that you only practice at work – but also in everyday activities. Our goal is to raise awareness about safety on a broader scale through the blog, which will serve to keep safety at the forefront of everything we do." Since taking the role of Safety Manger in 2010, Geise has implemented expanded training for staff along with weekly safety tips to engage learning on safe practices and hazard recognition at construction sites as well as in everyday activities. The insight gained from this training and experience allows SSOE personnel to assist clients in making safe decisions during the engineering and design of a project as well as during construction and commissioning activities.
SSOE's safety initiative has become an integral part of the company's culture. In fact, SSOE has a continuous corporate goal in place to achieve zero lost time accidents. In support of this goal, employees are provided OSHA 10-hour and 30-hour construction outreach training and project specific safety training to ensure projects are completed incident free. In addition, SSOE provides specialized in-house and client safety training that includes several levels of arc flash training.
This commitment to safety has translated into impeccable safety records, most recently recognized at two project sites where SSOE is performing construction management.  In late 2011 SSOE reached the milestone of seven million hours worked with no recordable incidents on Goodyear Tire & Rubber Company's newest tire plant located in Puladian, China.  In March of this year GM and SSOE celebrated one million safe working hours during construction of the General Motors China Advanced Training Center in Shanghai. In addition, SSOE was awarded the 2011 Contractor Safety & Environmental Excellence Award from Marathon Petroleum LP Marketing & Transportation Engineering. The award recognizes SSOE as a top safety performer for work performed on Marathon projects. SSOE was chosen as a recipient for this award based on their established safety program and their continued safety training for employees.
To visit SSOE's Safety Blog, please click blog.ssoe.com/safety
About SSOE Group
As a Top 10 Engineering / Architecture firm for the past 5 years, SSOE Group focuses on delivering Great Client Service to clients through a full range of project delivery solutions. They have been named a "Great Workplace" (Great Place to Work®) and one of the "Best AEC Firms to Work For" (Building Design + Construction).
With more than 20 offices around the world, SSOE is known for making its clients successful by saving them time, trouble, and money. Over the company's 65+ year history, it has earned a reputation for providing quality project solutions to semiconductor, automotive, food, chemical, glass, manufacturing, healthcare, power, and general building industries—with projects completed in 40 countries. Visit www.ssoe.com for additional information and career opportunities.
Media Contact:
Jenni Roder
(419) 469-1918
(419) 351-6480 cell
jroder@ssoe.com
You can follow any responses to this entry through the RSS feed. Both comments and pings are currently closed.
Tagged arc flash, blog, construction-feature, front-page-feature, project-and-program-management-feature, safety training