SSOE Group Named Fourth Largest Engineering Firm in Birmingham
List Published by Birmingham Business Journal (BBJ)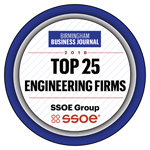 BIRMINGHAM, Alabama, February 28, 2017 – SSOE Group (www.ssoe.com), a global project delivery firm for architecture, engineering, and construction management, is proud to announce it has been named one of Birmingham Business Journal's 2017 Top 25 Engineering Firms. The BBJ Top Engineering Firms List ranks the top 25 engineering firms in Birmingham, Alabama based on total number of licensed professional engineers – SSOE was named 4th largest engineering firm in Birmingham.
Birmingham Office Manager and Senior Account Executive at SSOE, David Huddleston, NICET IV, commented on this year's ranking, "We've seen substantial growth in Alabama in the past year in some of SSOE's core markets: automotive, aerospace, food, and general manufacturing, and we've increased resources in the region to better support clients in the area. We're excited about this growth and expect to see continued success in the future as our clients recognize all the benefits this area has to offer."
In addition to Birmingham, SSOE has offices in Huntsville and Mobile, Alabama as well as three additional locations in the Southeast U.S. region including Atlanta, GA; Nashville, TN; and Raleigh-Durham, NC. The firm has more than 35 years of experience executing projects in the Southeast ranging from greenfield automotive assembly plants to most recently performing structural, full mechanical, electrical, and plumbing (MEP), and fire protection services for LogiCore Corporation's corporate headquarters in Huntsville's Research Park.
For more information on these rankings, click here, or for more information on SSOE's Southeast U.S. operations visit www.ssoe.com/southeast.
About SSOE Group
As a Top 10 Engineering / Architecture firm for the past 5 years, SSOE Group focuses on delivering Great Client Service to clients through a full range of project delivery solutions. They have been named a "Great Workplace" (Great Place to Work®) and one of the "Best AEC Firms to Work For" (Building Design + Construction).
With more than 20 offices around the world, SSOE is known for making its clients successful by saving them time, trouble, and money. Over the company's 65+ year history, it has earned a reputation for providing quality project solutions to semiconductor, automotive, food, chemical, glass, manufacturing, healthcare, power, and general building industries—with projects completed in 40 countries. Visit www.ssoe.com for additional information and career opportunities.
Media Contact:
Jenni Roder
(419) 469-1918
(419) 351-6480 cell
jroder@ssoe.com
You can follow any responses to this entry through the RSS feed. Both comments and pings are currently closed.
Tagged birmingham