SSOE Group Partners with Hiring Our Heroes to Employ Military Service Members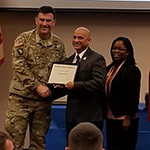 NASHVILLE, Tennessee, November 21, 2017 – SSOE Group (www.ssoe.com), a global project delivery firm for architecture, engineering, and construction management, is partnering with the U.S. Chamber of Commerce Foundation on their Hiring Our Heroes (HOH) Corporate Fellowship Program (CFP). The HOH CFP is designed to train transitioning service members on skills needed to succeed in the civilian workforce. This is done through a 12-week program that consists of educational programming and on-the-job training opportunities for service members while still on active duty. As part of the program, service members gain private sector working experience and education to help close the gap in employment for transitioning service members.
SSOE's Nashville, Tennessee office hosted two service members, called "Fellows", through this program to-date, with the hopes of hosting many more. SSOE's first Fellow joined the team for ten weeks in May to learn the role of project controller. The Fellow, a Supply Specialist in the U.S. Army is stationed at Ft. Campbell in Clarksville, Kentucky and holds a Master of Business Administration and is currently working towards a doctorate degree. He joined the HOH program with hopes to help smooth his February transition into the civilian workforce.
SSOE hosted its second Fellow, Francisco "Frank" Erazo, Communications Supervisor in the U.S. Army, as a project manager from August through November. Frank is also currently stationed at Ft. Campbell in Clarksville, previously serving in South Korea and at the U.S. Embassies in Columbia and Honduras. He has his Bachelor of Science in Criminal Justice / Law Enforcement Administration and is currently pursuing his Project Management Professional (PMP) certification through the HOH program. SSOE is excited to announce that Frank will be returning to SSOE to fill a full-time project manager role within the Automotive Manufacturing Facilities (AMF) business unit upon retirement from the Army in December.
During the graduation ceremony for Frank's HOH Cohort in November, he had the honor of addressing the audience, "From my experience, it's been a blessing. A program that can open your eyes to the corporate world by placing you with a host company for 10 to 12 weeks to learn, and maybe, offer you a job. But what makes this program special is the personnel and guest speakers who took time from the busy schedule to tell us how it really is in the corporate world."
SSOE employees and fellow Army Veterans, Brandon Darroch, PMP, and Scott Coe, PMP, are just two of the many individuals who supported the Fellows as they worked as part of SSOE's AMF project management team, gaining valuable experience in project management and project controls.
"SSOE is proud to partner with Hiring Our Heroes to provide coaching and hands-on learning experiences to transitioning soldiers. The HOH program has provided us access to a new talent pool by introducing us to some of the Army's strongest and brightest leaders ready for their next step. Many of these soldiers have significant, transferrable skillsets and live by the Army's values—ones that closely reflect SSOE's core values. It's a great opportunity to give back to the men and women who fought for our country and build relationships with potential new team members." says Adrienne Byers, PHR, SHRM-CP, Human Resource Manager for SSOE's Southeast U.S. offices.
SSOE's active involvement with the HOH program is one of the many ways the firm supports veterans. They also participate in and sponsor the Veterans Matter annual Walk to End Veteran Homelessness, supporting the organization's mission to provide housing to homeless veterans. To-date, they have housed over 1,700 veterans in over 180 cities nationwide. In addition, SSOE currently employs more than 50 team members who have served in the military at some point during their career.
About SSOE Group
As a Top 10 Engineering / Architecture firm for the past 5 years, SSOE Group focuses on delivering Great Client Service to clients through a full range of project delivery solutions. They have been named a "Great Workplace" (Great Place to Work®) and one of the "Best AEC Firms to Work For" (Building Design + Construction).
With more than 20 offices around the world, SSOE is known for making its clients successful by saving them time, trouble, and money. Over the company's 65+ year history, it has earned a reputation for providing quality project solutions to semiconductor, automotive, food, chemical, glass, manufacturing, healthcare, power, and general building industries—with projects completed in 40 countries. Visit www.ssoe.com for additional information and career opportunities.
Media Contact:
Jenni Roder
(419) 469-1918
(419) 351-6480 cell
jroder@ssoe.com
You can follow any responses to this entry through the RSS feed. Both comments and pings are currently closed.
Tagged hiring our heros