SSOE Group Proud to Announce Attainment of Professional Certification by Intern Architect in Fourth Quarter 2012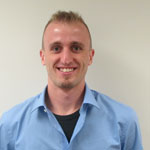 Raleigh-Durham, North Carolina, October 10, 2012 – SSOE Group (www.ssoe.com), a global engineering, procurement, and construction management (EPCM) firm, announced today that Matthew Veith, Intern Architect, in their Raleigh-Durham, North Carolina office has earned his Leadership in Energy and Environmental Design (LEED®) accreditation. Attainment of professional licenses and certifications are strongly encouraged at SSOE.
Matthew Veith, LEED AP BC+C earned his LEED accreditation after successfully completing the "LEED for New Construction" exam. The LEED Accredited Professional exam is offered by the United States Green Building Council (USGBC) and designates that an individual has earned the knowledge and skills necessary to facilitate the LEED certification process. Veith received a master's degree in architecture from Kent State University, in August, 2011 and is preparing to take the Architecture Registration Exam (ARE) within the year to become a Registered Architect (RA).
"Matthew is a bright, talented, young architect. In his two and a half year tenure at SSOE he has quickly become a valuable asset to our team. It takes hard work and dedication to achieve a professional certification as an intern architect. This speaks volumes of Matthew's abilities both professionally and personally "stated Meredith Mayes, PE, LEED AP, CBCP, Business Leader in SSOE's Raleigh-Durham office.
SSOE promotes a strong co-op program with architecture and engineering programs at universities across the globe. The result is a winning situation for the students, SSOE, participating universities, and the cities hosting SSOE offices by attracting and retaining young and bright professionals to their communities. Currently, SSOE employs more than 40 student interns. To learn more about SSOE's career opportunities for college students, visit www.ssoe.com/careers.
About SSOE Group
As a Top 10 Engineering / Architecture firm for the past 5 years, SSOE Group focuses on delivering Great Client Service to clients through a full range of project delivery solutions. They have been named a "Great Workplace" (Great Place to Work®) and one of the "Best AEC Firms to Work For" (Building Design + Construction).
With more than 20 offices around the world, SSOE is known for making its clients successful by saving them time, trouble, and money. Over the company's 65+ year history, it has earned a reputation for providing quality project solutions to semiconductor, automotive, food, chemical, glass, manufacturing, healthcare, power, and general building industries—with projects completed in 40 countries. Visit www.ssoe.com for additional information and career opportunities.
Media Contact:
Jenni Roder
(419) 469-1918
(419) 351-6480 cell
jroder@ssoe.com
You can follow any responses to this entry through the RSS feed. Both comments and pings are currently closed.