SSOE Group Receives Two Associated Builders and Contractors "Excellence in Construction" Awards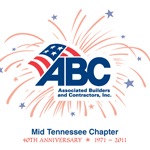 Nashville, TN, January 26, 2012— SSOE Group (www.ssoe.com), an international engineering, procurement, and construction management (EPCM) firm, announced today that it has received two 2011 Excellence in Construction Awards from the Mid-Tennessee Chapter of the Associated Builders and Contractors (ABC). SSOE was awarded these honors for their design of the Austin Peay Hemlock Building renovations located in Clarksville, Tennessee and the new Tallahassee Memorial Cancer Center in Florida. SSOE was chosen as a recipient for these awards based on innovative, high quality work where safety played an important role in the overall construction process.
SSOE was responsible for design of the nearly $2 million renovations of the Austin Peay Hemlock Building – a 5,000 SF student training laboratory built to simulate the lab of a working facility. With a compressed schedule of only seven weeks to complete this installation, SSOE and contracting company, The Comfort Group, worked around the clock to deliver the project on time.
Working with local Tennessee contractor, Robins & Morton, SSOE also performed the design of the new Tallahassee Memorial Cancer Center. Many sustainable features, including the use of 92% recycled structural steel, were incorporated into the 52,000 SF building which was awarded LEED® Silver certification in April 2011.
The ABC Excellence in Construction Award seeks to recognize the entire construction team – construction owners, designers, and contractors–working in collaboration to successfully complete a project on-time, with exceptional quality, and in a cost-effective manner. Entries were submitted by providing a project narrative and detailed description of the construction process used – with specific attention to new processes, time, and space restrictions, and special challenges faced to complete the project. The awards were presented to both project teams at the annual Awards of Excellence Banquet held on Thursday, November 10, 2011 in the Nashville Airport Marriott. Award recipients at the chapter level were then eligible to enter projects in the ABC National competition which is to take place in February, 2012.
About SSOE Group
As a Top 10 Engineering / Architecture firm for the past 5 years, SSOE Group focuses on delivering Great Client Service to clients through a full range of project delivery solutions. They have been named a "Great Workplace" (Great Place to Work®) and one of the "Best AEC Firms to Work For" (Building Design + Construction).
With more than 20 offices around the world, SSOE is known for making its clients successful by saving them time, trouble, and money. Over the company's 65+ year history, it has earned a reputation for providing quality project solutions to semiconductor, automotive, food, chemical, glass, manufacturing, healthcare, power, and general building industries—with projects completed in 40 countries. Visit www.ssoe.com for additional information and career opportunities.
Media Contact:
Jenni Roder
(419) 469-1918
(419) 351-6480 cell
jroder@ssoe.com
You can follow any responses to this entry through the RSS feed. Both comments and pings are currently closed.
Tagged construction, sustainable features, training laboratory