SSOE Group to Exhibit at the AEP Boiler Reliability Optimization (BRO) Forum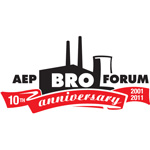 Columbus, Ohio, July 18, 2011 – SSOE Group (www.ssoe.com), an international engineering, procurement, and construction management (EPCM) firm, will have experts on hand at the American Electrical Power's BRO Forum on August 8-11, 2011. This event will take place at the Greater Columbus Convention Center in Columbus, Ohio. Celebrating its 10th year, the forum brings AEP employees and vendors together to discuss new boiler technologies and process improvements.
SSOE's Mike Hickman, Ron Lutwen, and Dave Kuzma, PE will attend the event and will showcase the firm's broad range of services and experience. "We are honored to be invited by AEP to attend this important forum. We look forward to showcasing our industry knowledge and capabilities in regards to power plant efficiency," said Ron Lutwen, Manager of SSOE's Power Division.
SSOE's power team has worked on numerous projects for AEP over the past 15 years, and is experienced in industrial boiler operations, EPA regulations, as well as alternative energy and energy efficiency initiatives. SSOE is ranked 1st nationally among Green Industrial and Manufacturing Design firms by ENR, 2011.
For more information on the forum, please visit: http://aepevents.com/e/bro-2011.
About SSOE Group
As a Top 10 Engineering / Architecture firm for the past 5 years, SSOE Group focuses on delivering Great Client Service to clients through a full range of project delivery solutions. They have been named a "Great Workplace" (Great Place to Work®) and one of the "Best AEC Firms to Work For" (Building Design + Construction).
With more than 20 offices around the world, SSOE is known for making its clients successful by saving them time, trouble, and money. Over the company's 65+ year history, it has earned a reputation for providing quality project solutions to semiconductor, automotive, food, chemical, glass, manufacturing, healthcare, power, and general building industries—with projects completed in 40 countries. Visit www.ssoe.com for additional information and career opportunities.
Media Contact:
Jenni Roder
(419) 469-1918
(419) 351-6480 cell
jroder@ssoe.com
You can follow any responses to this entry through the RSS feed. Responses are currently closed, but you can trackback from your own site.